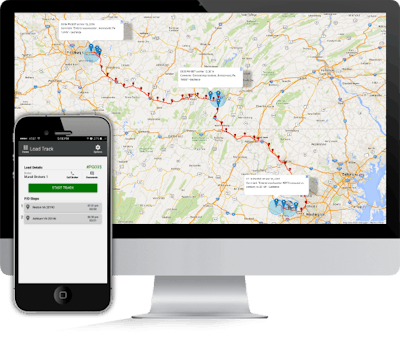 Trucker Tools added new features in its Smart Capacity platform and Mobile Driver App that it says will improve predictive freight-matching, capacity visibility and load tracking capabilities.
The Trucker Tools Mobile Driver App, launched in 2013, has surpassed 600,000 downloads. The number of small fleet operators with 10 trucks or less using the app has grown to more the 125,000, the company says.
Since March 2018, Trucker Tools has doubled the number of freight brokers and 3PLs contracted on the Smart Capacity platform who utilize its tools for capacity, load visibility and predictive freight-matching.
The company added a new "Book it Now" feature to Smart Capacity and the mobile driver app. With this feature, a driver or dispatcher reviews a list of participating brokers' available loads, with pricing, that match available capacity in the fleet or driver's preferred lanes. Each entry has a "Book it Now" button next to it.
The broker has the option of selecting what loads go through the automated Book it Now process.
"The broker can still call the carrier to confirm things like type of equipment, availability, timing and other details. However, the intelligence and process algorithms we built into the system fully automates the process," said Murali Yellepeddy, Trucker Tools chief technology officer.
The Smart Capacity system learns the carrier's and broker's preferences by analyzing historical data and trends such as preferred lanes, loads and shippers. With every Book It Now confirmation email sent to the driver/dispatcher, the system sends a suggested list of future available loads for tender that reflect the driver's preferences and are in proximity to where the current load will be delivered.
"They get an advance look at available future loads, ranked with best on top, according to their history and preference," explained Yellepeddy.
Trucker Tools also added a new Detention Alerts feature. The moment the carrier arrives and stops at the shipper's facility, a time-stamp is issued, and a clock starts tracking wait time, explained Yellepeddy. Once the wait time reaches a pre-determined trigger, an alert is issued to the broker. Detention alerts can be set up with any driver on the Trucker Tools Mobile Driver App.
An upcoming feature, Detention Scorecards, will let drivers grade their interactions and experience with a shipper and share other driver reviews, comments and photos of the shipper's facility and loading docks. The scorecard also will incorporate historical detention trends, and driver feedback on shipper's detention practices.
"Detention history and grades will be available to anyone on the platform," said Yellepeddy.