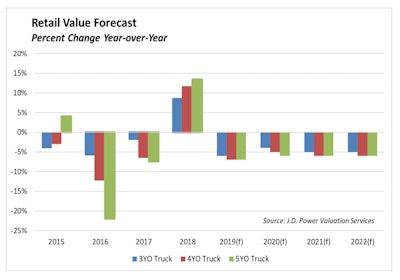 Used truck prices slid across all classes and segments last month – a move which J.D. Power Valuation Services says puts the market closer to a "historically typical" range.
With suppressed winter sales in the rearview, J.D. Power Commercial Truck Senior Analyst Chris Visser says March data provided the first real look at how the market is holding up this year.
"Volume of our benchmark model was up by an expected proportion over February, but fell well short of last March," he says.
J.D. Power's benchmark model for March auction activity shows model year 2016 tractors averaged $42,750, $3,550 (7.7 percent) lower than February and 2015 trucks averaged $36,600, $3,000 (7.6 percent) lower than February. Model year 2014 tractors averaged $29,250, $1,050 (3.5 percent) lower than February; 2013 tractors averaged $25,400, $2,175 (7.9 percent) lower than February; and 2012 tractors averaged $18,750, $5,650 (23.2 percent) lower than February.
In the first 3 months of 2019, Visser says 4-6 year-old examples of J.D. Power's benchmark model brought 4.3 percent more money at auction than in the same period of 2018.
"Going forward, year-over-year comparisons should reach parity and then turn mildly negative," he adds. "Freight-focused economic measures are less stable than last year, but we expect pricing to remain relatively healthy through the second quarter."
The volume of late-model trucks that retailed in March was similar to February, although dealers sold incrementally more trucks overall.
The average sleeper tractor retailed in March was 69 months old, had 467,319 miles, and brought $55,808. Visser trucks with less-desirable specs and mileage are not faring as well as in previous months.
Compared to February, the average sleeper was identical in age, had 3,209 (0.7 percent) more miles, and brought nearly identical money.
On a year-over-year basis, Visser says late-model trucks sold in the first quarter this year brought 10.6 percent more money than in the same period last year. On average, trucks in this age range depreciated 3.3 percent per month compared to 2.5 percent in the same period of 2018. Value trends in 2019, Visser says, are looking more historically typical than in 2018.