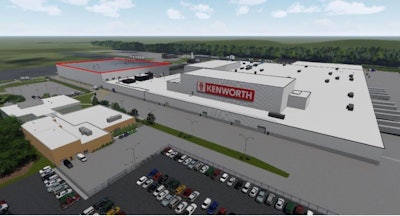 With company officials and state dignitaries in attendance, Kenworth officially broke ground on a state-of-the-art paint facility at its Class 8 production facility in Chillicothe, Ohio. The truck OEM said the $140 million investment will help the truck OEM alleviate bottlenecks and increase production capacity.
The new paint facility will use the latest paint technology and environmental controls, including rotary spray guns that user less paint and thinner, paint systems that will increase first-pass yield, as well as emissions control systems that will improve the plant's environmental footprint by reducing VOC emissions by 80 percent.
The Chillicothe plant, which produces all of Kenworth's T680, T880 and W990 trucks and tractors for the U.S. and Canadian markets, produced record production volumes in 2018 with 39,800 units built.
"These are exciting times at factory as we are running lately at record build rates," said Rod Spencer, plant manager. "This investment is key to laying the foundation for future growth."
With more than $200 million invested in its Chillicothe factory in the last five years, the paint facility is the latest upgrade that also includes new manufacturing systems, lighting and a $33 million automated cab assembly system that will be operational this summer. "These continued investments will ensure the Chillicothe operation remains well-positioned to support continued market share growth through state-of-the-art technologies supporting our world-class product," said Mike Dozier, Paccar vice president and Kenworth general manager.
"Chillicothe is a great place for Paccar and Kenworth to build trucks," added Harrie Schippers, Paccar president and chief financial officer. "It is close to our customers and our major supply base and highly skilled employees. The paint facility we are breaking ground on today is the latest phase of our strategy to ensure Chillicothe's vital role to increase production of our market-leading products."
The expansion will improve Kenworth's paint capacity by 50 percent and allow the company to trim its current paint operation from three shifts to two – matching shifts in the rest of the Chillicothe plant operations – while increasing efficiency and helping to manage production cycle peaks.
Dozier said Kenworth's Class 8 order board remains strong, with current available build slots pushed out to the end of 2019 and into 2020. In 2018, the company turned in a 15 percent Class 8 market share in the U.S. and Canadian markets.
Looking to the near future, Schippers said "economic fundamentals remain strong," citing the current order backlog. "Even if orders were at a really low level, I would still expect us to start 2020 with a busy production schedule."