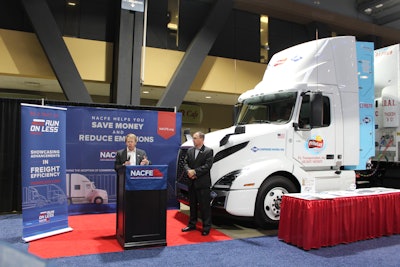 At the Advanced Clean Transportation Expo today in Long Beach, Calif. the North American Council for Freight Efficiency (NACFE) released its latest report, More Regional Haul: An Opportunity for Trucking?
"If you ask most people to define trucking words like 'over the road' and 'long haul' are likely to be part of the description. But the reality is that 45 percent of the Class 8 tractors produced today are day cabs, and a high percentage of those trucks are involved in regional haul operations," said Rick Mihelic, NACFE's director of future technologies and study team manager.
NACFE believes that a number of forces have come together that have the potential to lead to a more regional movement of goods. Those factors include:
Driver hiring and retention
Growth in e-commerce
The push towards immediate delivery
Growth in GPS based asset tracking systems (tractor, trailer, load and driver)
Advances in technologies such as electric and hybrid vehicles
Vehicle automation
Innovations in load matching systems
Increased use of long combination vehicles
Data collection and mining
Vehicle specialization
The new report takes an in-depth look at each of these developments and also provides examples of various types of regional haul applications.
The two biggest findings from the report revolve around drivers and alternate fueled vehicles.
"Regional operations means drivers are more likely to get home on a regular basis and that could help the industry with its the driver recruitment and retention problem," said Mike Roeth, NACFE executive director.
"Regional operations are also fertile ground for alternate fueled vehicles because, by their very nature, they make it easier for fueling infrastructure for vehicles that use an energy source other than gasoline or diesel fuel to be installed," Roeth continued.
NACFE plans to continue to watch developments in the regional haul space and is planning a fuel economy demonstration for regional fleets this fall. Run on Less Regional is being modeled after NACFE's Run on Less 2017 event in which seven fleets demonstrated that 10.1 MPG was possible with trucks delivering real freight in long haul applications. NACFE is in the process of accepting applications for fleets to participate in Run on Less Regional. Information from the event will be used to more clearly define the attributes of successful haulers.