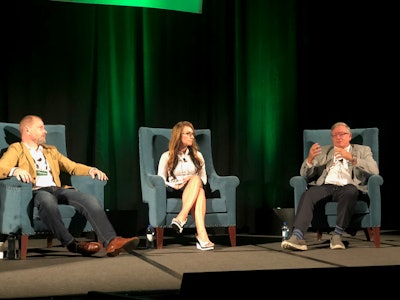 Less than 40 percent of drivers that motor carriers hire today will continue to be at their companies 365 days from now. Early driver turnover is an industry-wide problem, and a panel of retention experts shared strategies last week at the CCJ Symposium to help fleets navigate the issue.
The panel was moderated by Mary Malone, vice president of business development for driver retention firm Stay Metrics. The South Bend, Ind.-based firm provides driver surveys and a privately branded rewards platform for fleets.
"We think the way to succeed is to ask drivers' opinions [and] reward and recognize them," Malone said. "Building a culture of abundance leads to having more engaged drivers."
Mackenzie Melton, recruiting and retention specialist for Garner Trucking, a Findlay, Ohio-based truckload carrier, was a driver for three years before she accepted her current role. Garner operates a fleet of about 100 trucks, and Melton spends her time building relationships with prospective and current drivers.
"I think the biggest challenge is that drivers feel so disconnected from the company. They rarely go through a terminal and do not take time to meet the office staff," she said. "Finding ways to increase the connection is invariable. It has to happen."
Setting expectations
Melton also stressed the importance of setting expectations with drivers from the first point of contact. Recruiters should explain "this is what we are, and this is what we don't offer," she advised. "I get a lot of grief about this, but my first conversation with driver is asking them 'what are you interested in?' That will let me know, do we offer what this person is looking for? From that first conversation we need to be looking to retain them."
She stays in direct contact with new drivers through the training process and others in the company have follow-up calls with drivers every week. The CEO of Garner Trucking calls drivers at the five-week mark.
Panelist Mike Hammond, vice president of driver development and retention for Epes Transport System, a truckload carrier with 1,400 power units stationed in Greensboro, N.C., had similar advice about setting expectations.
Epes has a regional approach with dedicated freight lanes to get drivers home every weekend, if that is what they want, and they can earn more than $80,000 a year. The fleet's turnover is 41.2% year to date.
"We are large but don't want to feel large," he said. Epes Transport has a chaplain that visits drivers and makes phone calls to provide assistance. In addition, a spouse support group at Epes Transport "helps to create an environment where people feel like they belong."
One of the challenges of recruiting is to help drivers understand the realities of the job, he said, such as they may need to help with the unloading of freight at some customer locations. The company has changed the script its recruiters use to capture those realities and recently created a video that it shares with recruits to better set the expectations.
Jack Porter, chief executive of GPorter Group, a management consulting company that specializes in transportation, summarized his experience working with clients on early driver turnover issues.
"If you do not have a retention strategy that builds into your culture, you're going to have a challenge," he said. "The reality is you did not meet their expectations, period. Often, drivers did not know what the expectations were before they started."
One of the contributing factors for early turnover is that many fleets give recruiters an incentive for drivers who last for 90 days, but companies need to set up drivers for long-term success, he explained.
Right-sizing orientation
The panel agreed that a carrier's orientation training plays an important role in limiting early turnover, but that companies should not try to cram too much information into a limited time frame. From a three-day orientation program, for example, a driver is only going to remember about an hour and a half of what he was presented, Porter said.
On the other hand, Porter says many carriers rush through orientation training and "stick (drivers) in the seat and hope things work."
Hammond wishes the trucking industry would discontinue its use of the word "retention," instead preferring the term "people development." Retention has a connotation that companies tolerate drivers.
"I don't want to be retained," he said. "I want a leader to lead me."
About 18 months ago, Epes Transport retooled recruiting and orientation program. Drivers are able to complete all of the coursework online before they arrive to the office. Most of the time at the office is spent getting a tour of the company with its president and meeting the operations team.
Drivers can be handed the keys to a truck within four hours of their arrival. Compressing the orientation training has increased its driver applications by about 80% since it has freed its recruiters from the responsibility of managing drivers through orientation.
A one-day orientation may not be the best approach, however. Hammond says the company is revisiting its approach to make sure drivers are not missing out on key information that could help them make a smoother transition during the first few days and weeks on the job.
"We lost some things because we were going so fast," he said.
Driver mentors
Hammond said the company's driver mentor program has helped to lower early driver turnover. At the four month mark, 71 percent of drivers who have a mentor are retained, compared to 47 percent of drivers without a mentor.
Drivers who serve as mentors to new hires get their own business cards, a cell phone allowance, and are paid incentives. The incentives are paid out when new drivers hit milestones, such as when they deliver their first load on time, and after they have been on the job for one month.
"They love it," says Hammond of drivers who participate in the mentor program. "We have an engaged fleet. Driver mentors are an extension of our leadership."