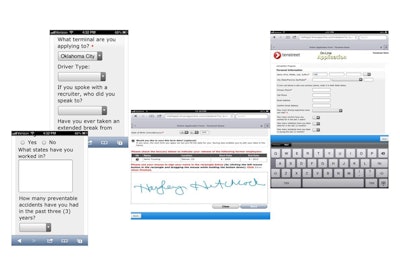 Tenstreet recently announced new features, at no additional cost, have been added to its driver recruiting software. It also has additional network partner integrations.
Many of Tenstreet's products are aimed at compressing the hiring cycle, and its Xchange network helps carriers verify employment. The company says that carriers who use its software have a hiring cycle of 5 days and have application-to-hire conversion rates 50% higher than the industry average.
Tenstreet's latest update has additional features that automatically schedule forms like the I-9 and W4, request a signature whenever a new employer or school is added to an applicant's record, and send a verification of employment when an applicant is moved into a new processing status.
An update also gives recruiters a timeline view of every interaction that includes call logging through integrations with Marchex, Conversa, and CallSource. A new widget identifies inbound calls from drivers to remove the manual process of pairing calls with applicants, and helps prioritize who needs a call back first.
The company has integrated with three new partners. The SambaSafety integration enables carriers to monitor driver activity and sends notifications when a driver gets a violation.
Tenstreet's partnership with The WorkNumber from Equifax Workforce Solutions will make verifications simpler and more thorough for users by automatically adding employers to drivers' applications whenever they're found.
Tenstreet says its onboarding capabilities will be boosted by its integration with Instructional Technologies, Inc – ITI's library of fleet training videos. The videos will be available for drivers to access through a mobile device or computer via Tenstreet's Driver Pulse app.
Other new features include a centralized application center that provides each application with a free editable landing page and an awards system that incentivizes exploring the system and helps newer users learn about how to use the full array of services.