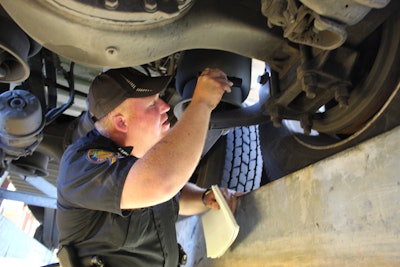 Note: This is the first in a multi-part series that will publish in advance of this year's Commercial Vehicle Safety Alliance (CVSA) International Roadcheck blitz from June 4-6.
Florida Highway Patrol (FHP) Trooper Bobby Simmons is hunched over in the inspection pit at the Sneads weigh station on I-10 as he grabs the Freightliner's steering tie rod and checks it for a tight fit. He inspects tie rod bolts, steering arm ball joints, drag link and cotter pins next.
For Simmons, a former mechanic, the work is second nature. He's one of 255 truck inspectors statewide that will be busy checking trucks during this year's Commercial Vehicle Safety Alliance (CVSA) International Roadcheck blitz from June 4-6. This year's inspections center on steering and suspension.
Given all the moving parts in a steering system, such as U-joints, gear box, Pitman arm, and tie rods, the key is knowing tolerances for movement.
"Occasionally, you will find a loose steering gear box or Pitman arm," says Simmons who's been inspecting trucks for the past 10 years. "You can have movement in it – rotational movement, which is normal. But if you have any vertical movement, more than 1/8th of an inch, it's going to be an out of service."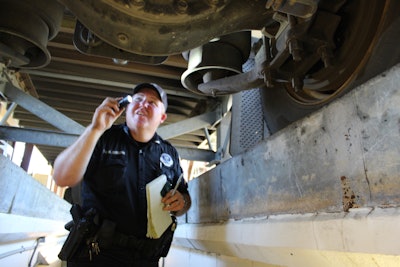 Simmons inspection also takes him topside where he lifts the hood to examine additional steering components and check for fluid leaks. As he did earlier when assessing steering components under the truck, Simmons asks the driver to move the steering wheel.
"Driver, I need you to rock your steering wheel back and forth. Little bit more. Little more force," he says while looking over the steering shaft and U-joints that slowly twist back and forth.
During steering inspections, Simmons feels for loose ball joints, tie rods and U-joints.
"A lot of times you can put your hand on here (on top of the steer tire) and if you've got something that's loose, you're going to feel it through this tire," he says before flashing his light back to the network of moving parts.
"We're looking for any movement where the output shaft connects to the Pitman arm," Simmons continues. "That's tight. No jumping around in the ball joints. They're tight. Same back here. And then we look down and see that the tie rod ends and ball joints are good."
As with most inspections, this truck goes on to pass a Level 1 inspection. Others haven't been so lucky. For calendar years 2017 and 2018, FHP found 12,107 steering violations during 1,594 inspections. Out of Service violations accounted for 2,514 of the total violations. Some trucks received more than one out of service steering violation. Over the course of those two years, 1,256 trucks were grounded in the Sunshine State because of steering issues.
According to CVSA, last year's Roadcheck blitz took 11,910 vehicles off the road for out-of-service violations in the U.S. and Canada. Roughly two percent, or 262 vehicles, were OOS violations for steering. The top three OOS violations were for brake systems (28.4 percent), tires and wheels (19.1 percent) and brake adjustment (16.3 percent). Though obviously brake-related issues easily top the list for OOS violations, any grounded truck is money lost. Plus steering issues may lead to tire problems.
"When we see tire issues, most notably irregular wear, it gives you clues depending on how that tire's wearing as to the alignment of the truck," said Kyle Chen, brand manager of truck and bus radial tires at Bridgestone Americas Tire Operations.
"And a lot of times people mostly focus on the steer position alignment, but you also have two other axles in the case of a tractor-trailer. Those alignments can also be off and can affect how tires can wear. We encourage, as part of fleet maintenance, to make sure all of the axles are aligned properly, not just the steer."