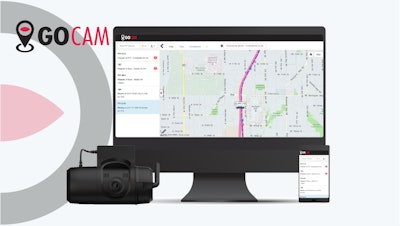 SmartWitness announced that its fully integrated HD video telematics solution, GoCam, is available on the Geotab Marketplace, to help fleets transition from location tracking and ELD reports to monitor driver behaviors and collect video data to help improve safety and for evidence to mitigate insurance claims.
The SmartWitness device allows for viewing up to four camera channel inputs in the GoCam add-on. While road and driver facing camera views are most common, SmartWitness says it can include additional views of the side, rear and cargo areas of a vehicle.
"GoCam enables fleets to experience significant savings in terms of insurance claims and disputes, helping to effectively eradicate fraudulent claims while providing the most accurate evidence to improve driver behavior," said Nick Mirchef, SmartWitness president. "Launching GoCam on the Geotab Marketplace will provide Geotab customers with a quick and cost effective way to add HD video into their existing telematics solution."
The GoCam add-on allows Geotab users to review incident video within the MyGeotab platform. GoCam is also integrated with the Geotab rules engine so users can correlate a Geotab-identified event with a video upload, such as a geo-fence breach or a speeding event.
"The Geotab Marketplace provides an extensive ecosystem of partners and applications that are continuously growing to meet the needs of the over 40,000 businesses leveraging our telematics offering worldwide," said Joey Marlow, executive vice president of U.S. operations at Geotab. "By providing our customers with access to leading camera solution technology we are helping to equip them with relevant tools to not only customize their telematics solution but improve their fleet operations through greater visibility."