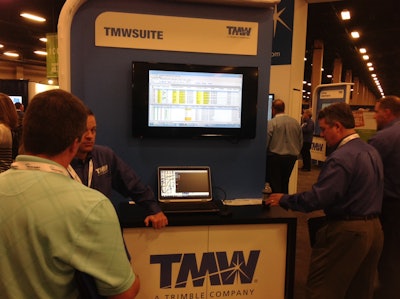 Trimble announced that it has integrated its TMW.Suite transportation management software with SaferWatch, an online application from Truckstop.com that provides carrier information and compliance monitoring.
The company says that its TMW.Suite customers with freight brokerage operations now have the capability to more effectively manage sourcing and on-boarding of carriers with automated carrier selection rules, on-demand certificates of insurance, CSA percentile scores and other key data points to ensure users work with qualified carriers.
The automated carrier selection rules will enable customers to better reduce the risk of on-boarding and working with carriers that do not comply with Federal Motor Carrier Safety Administration (FMCSA) regulations, the company says.
"The integration between TMW.Suite and SaferWatch is meant for user ease-of-use while Trimble users look to work with new partners," said Jay Delaney, senior director, product management for Trimble's Transportation Division. "With SaferWatch's focus on staying up-to-date on FMCSA regulations and its insurance database, our customers can be confident that they are working with qualified carriers."