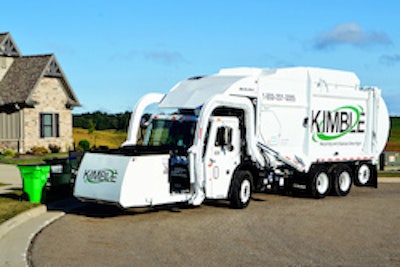 A trash and recycling collection company based in Cambridge, Ohio, is petitioning the Federal Motor Carrier Safety Administration to allow its 320 drivers operating under the short-haul hours of service exemption to extend their work days to 14 hours.
Kimble Recycling & Disposal says its short-haul trash and recycling pickup drivers cannot complete their work day within the 12 hours required by the short-haul exemption.
KRD adds that electronic logs "delay and distract its drivers working to collect waste and recycling materials because they require excessive interaction." The company's request states that because of frequent stops to pick up trash, its drivers have to interact with ELDs "hundreds if not thousands of times a day."
The company cites exemptions granted to ready-mixed concrete drivers and asphalt pavers allowing them to operate up to 14 hours a day without forfeiting short-haul status.
FMCSA is seeking public comment on the waiver request, which can be made here through June 27.