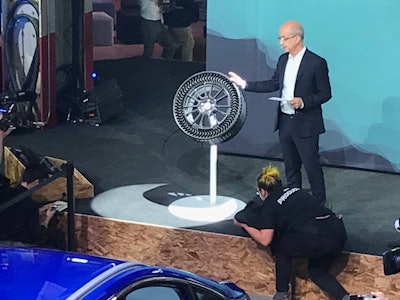 Michelin introduced a new non-pneumatic tire Tuesday during the kick off of its Movin'On Summit in Montreal, the fruit of a development program with General Motors (GM).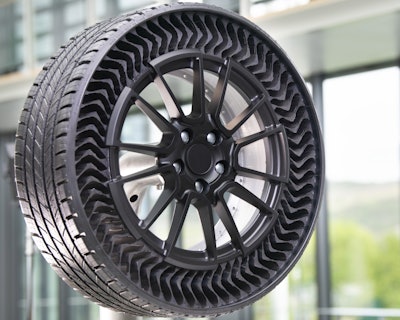 The Uptis tire is the second concept tire to debut at the annual event and follows the 2017 unveiling of the Vision tire. Following in the Vison's footsteps – or tread pattern – Uptis meet's Michelin's four primary pillars of innovation in that is is airless, connected, 3D-printed and fully sustainable.
The Uptis is a next-generation renewable tire but – and possibly most notably – looks more like a production-ready tire than the Vision. Eric Vinesse, Michelin's executive vice president of research and development, says he expects the tire to enter production by 2024.
Michelin and GM expect to test the Uptis prototype, beginning with passenger car vehicles like the Chevrolet Bolt EV. Later this year, the companies will initiate real-world testing of Uptis on a test fleet of Bolt EV vehicles in Michigan.
Vinesse says Uptis features improvements in architecture and composite materials, which enable the tire to bear the car's weight at road speeds. Its unique structure is enabled by new, high tech materials, reengineered rubber components and a new generation resin for reinforcement that Vinesse says took more than 10 years to develop.
Vinesse adds these innovations will save approximately 200 million tires worldwide from being scrapped prematurely as a result of punctures, damage from road hazards or improper air pressure that causes uneven wear.