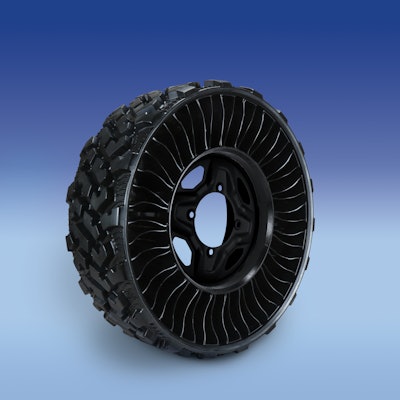 While the trucking industry is fixated on the future of trucks without diesel fuel, several tire manufacturers have been working on developing tires without air.
Non-pneumatic tires (NPTs) eliminate the need for tires to be inflated with air to support vehicle weight by using a spoke or web design and the tire's own tread band to optimize load carrying capacity.
"Unlike conventional tires, non-pneumatic tire technology includes the complete assembly to meet application requirements, meaning the tire, web and the wheel are designed as one assembly," says Jon Kimpel, executive director of new mobility solutions, Bridgestone Americas Tire Operations. Bridgestone's Air Free Concept uses a unique structure of resin spokes stretching along the inner sides of the tire.
Since NPTs don't fluctuate in pressure, they could extend tread life simply by eliminating over and under-inflation. But much work and experimentation lies ahead.
"We are still exploring the total life cycle of a non-pneumatic tire solution," Kimpel says. "The intent is to leverage retreading as it extends tire life and delivers a lower total cost of tire ownership for fleets."
Currently, NPTs are being deployed only in low-speed and off-road equipment like skid steers, zero turn mowers and golf carts.
"Non-pneumatic tires are being investigated but still are not a viable option for the [trucking] industry," says Accuride Field Engineer Brandon Uzarek. "It will take extensive product and process development to make a non-pneumatic tire/wheel a cost effective option for the industry."
Among the drawbacks to NPTs – and one of the reason's they are only approved for low speeds – is they generally offer poor traction, and without air to dampen shock from the road they feature a poor ride quality.
However, Michelin's X Tweel was designed to perform like a pneumatic radial tire through the use of flexible-yet-rigid rubber spokes in place of the standard wheel.
"The Tweel Airless Radial Tire is a top-loaded tire, meaning that it performs similar to a bicycle tire or a suspension bridge," says Mary Ann Kotlarich, public relations for Michelin North America. "The spokes disburse [road] forces all the way around the tire radially much the same way air does in an air-filled tire."
The tire's construction pulls the spokes downward and from the outside of the structure to implicate the shear beam, Kotlarich adds, hanging the load from the top and creating a large footprint "which ends up being a very low contact pressure footprint providing good traction and mobility."
Other NPTs, like foam-filled or solid tires found on forklifts, are bottom-loaders and carry the load from the hub to the contact patch.
"As a result, they get very high contact pressure, which results in poor traction and not a very good footprint," Kotlarich says.
Toyo, which has been researching airless tires since 2006, says NPTs also present some issues related to noise within the vehicle and ride quality, handling stability and noise outside the vehicle but adds those issues improve as the company continues to revise its noair concept tire.
Hankook's iFlex NPT has already passed testing in five categories: durability, hardness, stability, slalom and speed. In the speed test, an electric car equipped with iFlex tires reached 80 mph.
As NPT technologies are refined, they are likely to rollout to heavier applications but that is a long process and several iterations away.
"The focus [of Michelin's X Tweel] will continue to be in the off-road environment where tire satisfaction is low due to interrupted mobility or poor performance," Kotlarich says. "Automotive applications are part of our vision. We are currently accumulating experiences and driving miles with X Tweel Airless prototypes fitted on cars. Heavier weight and higher speed applications for trucks remain as a target for Michelin's future."
The associated cost and safety benefits of a non-pneumatic tire solution would be valuable to commercial fleets, Kimpel adds.
"Commercial trucking can definitely appreciate the design advantages of non-pneumatic tire technology," he says. "With no air pressure maintenance and a robust design, a non-pneumatic tire can offer increased uptime."
Among the drawbacks to NPTs on a commercial truck is the unpredictable nature of exactly how much weight sits on each axle under load.
"In a perfect world, each wheel on the axle would share the load equally. It is not always the case," Uzarek says. "Tread depth, inflation pressure, distribution of the load, wheel/tire design, and road conditions can cause the load to be distributed differently to each wheel. The loading of the axle should not exceed the GAWR for each axle. Typically, the wheel configuration will have a higher load rating than the axle."