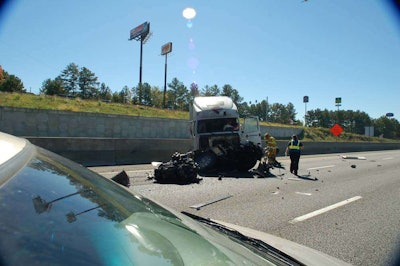 Note: This story was originally published in June 2019.
In September 2017, an office runner from Spine Center Atlanta delivered a box of doughnuts with a letter to the break room of Atlanta-based law firm McMickle, Kurey & Branch.
The delivery was made by accident but served an important purpose. The contents of the letter may explain why insurance premiums for motor carriers have been rising drastically over the past few years.
"To Our Valued Attorney Business Associates," the letter began, making it immediately obvious to law partners Kevin Branch and Mike Johnson that the delivery was intended for someone else.
At the time, Zach Matthews, another partner in the firm, was defending a real estate company in a slip-and-fall injury case. He was in the midst of a heated discovery battle with Spine Center Atlanta and its co-founder Dr. James Chappuis. The plaintiff received medical treatment from the clinic following the incident.
The letter mentioned a cloud-based software the clinic uses to maintain secret communications with plaintiff attorneys and other doctors in the area. Matthews soon discovered that a litigation finance company was involved in the business network. The same network, it turned out, was also steering the litigation of truck accidents.
Matthews subsequently provided legal counsel to trucking fleet insurance companies, who are the big targets with policies that typically have liability coverages of between $1 million and $10 million per accident.
It is not unusual for attorneys and doctors to be lien holders in accident claims, since they do not get paid until settlements are reached, but the involvement of litigation finance companies has been a recent discovery.
"Anytime you add an interested third-party to the mix, injury claims can get more expensive. In the case of medical finance companies, that increase can be significant," says Nathan Lundquist, vice president of commercial auto claims for Protective Insurance, one of the largest fleet trucking insurance providers. "The more you peel back the covers, the more you understand the pervasiveness of medical finance involvement."
Bundling claims
Matthews was able to gain access to the database of Spine Center Atlanta by order of a federal court. He found a log of activity between Dr. Chappuis, plaintiff attorneys and a medical funding company, ProMed Capital.
This and other recent court cases have exposed what legal experts say is an unethical practice. Non lawyers, namely doctors and finance companies, are steering the litigation for accident claims. In the past, plaintiff attorneys were the only ones behind the wheel and put aside money in a "war chest" to fund the risk of their contingency cases, says Ben Dyches, an attorney in Utah who specializes in defending doctors from malpractice suits.
"Now there's a whole industry built around third-party case evaluation and actuarial appraisals. If the odds are good, but the war chest is a little short, they bring on an investor and roll the dice together," he says.
Medical funding companies traditionally have advanced funds to plaintiffs while cases are in litigation to cover medical bills and lost wages, for example. The companies collect on these receivables when the cases are settled.
In the lawsuit with Spine Center Atlanta, Matthews discovered that Dr. Chappuis was billing at 2.5 to 3.5 times more than average market rates for medical procedures. More alarming was the clinic marketing to other doctors in the area and plaintiff lawyers to bundle their claims.
The clinic presented the bundles in packages of 10 to ProMed Capital to finance as accounts receivables. The finance company was advancing payments to the doctors for a discount fee on the receivables. It stands to reason, Matthews says, that the money Dr. Chappuis was receiving up front covered all of his clinic's costs for the medical procedures, including overhead.
The clinic's legal team was vetting the claims as part of this bundling process. Questions on the "intake sheets" for claims asked about the presence or absence of cameras and video event recorders, for example, and insurance policy limits.
The clinic and its legal team was deciding whether or not to work with patients based on the strength of their legal case, he says.
Matthews also found evidence the clinic had bundled 700 cases in the Atlanta area in one year. On average, each claim had a projected settlement of $100,000, he says, which equated to approximately $70 million in annual revenue.
The Collateral Source Rule
As a rule of thumb for rewarding verdicts, Matthews says juries will triple the cost of the medical bills. The doctor takes one third, the plaintiff lawyers takes one third and the plaintiff gets the remainder.
In many states, juries are permitted to only see what the doctor billed, not what a plaintiff's medical insurance paid as part of a negotiated rate. This practice is an application of the Collateral Source Rule, explains Mathews.
"In Georgia, for example, that rule prevents the jury from learning that an individual had medical insurance — or what the insurance rate would have been for a given procedure if they did not happen to have insurance," he says.
Medical finance companies have become a more pervasive influencer of civil suits because of this rule. As the litigation financiers they have "figured out that they can fund these cases, which will be presented to the jury at an exceptionally inflated 'uninsured' billing rate that is far higher than anyone is ever actually asked to pay," he says. "The difference between the fictitious charges being black-boarded to the jury and the actual, much lower charges the funder is actually being asked to pay creates a huge profit margin."
In the Spine Center Atlanta case, a deposition revealed that Dr. Chappuis was collecting 60 percent of the medical bill, on average, at the settlement of an accident claim. This left ProMed with plenty of margin to extract its fees. Even if the plaintiff attorneys settled with the defense at lower rates than the verdict amounts, the doctors and finance company were making very large profits, he says.
Quarterbacking litigation
What is happening in Georgia with litigation funding is no less prevalent in other places in the United States, Matthews says.
Litigation funders are often involved in quarterbacking litigation by offering "legal referral services" to plaintiffs and helping them find doctors who will "play ball," he says.
"These so-called 'legal referral services' often have databases of communications flowing back and forth, which [medical finance companies] are very loathe to reveal in discovery. In some prominent cases, the doctors themselves are becoming the nexus of the relationship and are keeping those communications in special fire-walled sections of their medical records software."
Protective Insurance has been working with Matthews. The company has had favorable rulings when it is successful in bringing medical finance companies into the mediation process for accident claims.
"Our goal is to have fair and reasonable settlements. The goal is not to save money on a claimant's injury," Lundquist says. "Protective Insurance does not need to fund a finance company's lifestyle."
Medical finance companies will go to great lengths to conceal their business dealings with doctors and attorneys, he says.
"Some finance companies are very well funded and represented. We expect aggressive opposition during the discovery process. It can be an uphill battle, but we know what we are signing up for when we dig in," Lundquist continues.
A legal defense strategy is to expose the connection between doctors, lawyers and litigation finance companies to show juries that doctors have a bias, intent and motive to perform procedures that the patient may not even need, Matthews says.
For instance, if a truck driver has a rear-end collision the injured party may go to a doctor who is connected to the litigation-funded world to get treatment they do not really need. The result is an inflated claim.
"It happens all the time," Matthews says. But is the world of litigation funding big enough to explain the rising cost of truck insurance?
"Absolutely. There is no question whatsoever," Matthews adds. "It is hard to believe this stuff is really happening."