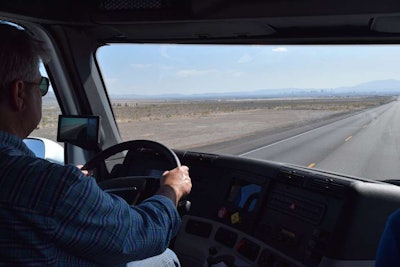 Update – Tuesday, July 9: FMCSA has opened the comment period for the rule that would allow third-party CDL trainers to administer the CDL skills test to applicants they trained themselves.
Comments can be made here through Sept. 9. The full proposed rule can be seen here.
Original story follows:
The Federal Motor Carrier Safety Administration on Thursday announced a proposed rule that would, if made final, streamline the process for obtaining a commercial driver's license.
Part of a so-deemed deregulatory action, the agency proposed to allow third-party CDL trainers to administer the CDL skills test to applicants trained by the third-party tester. The rule would not require states to allow third-party examiners to test their own students, but it would give states the option to allow it.
Currently, federal rules prohibit CDL skills instructors from administering skills tests to their own students, a measure meant to prevent fraud cases in issuing CDLs. However, FMCSA says it has other means of detecting and preventing fraud in CDL skills testing.
The agency says that allowing instructors to test their own students would alleviate delays in CDL skills testing and "reduce inconvenience and cost for third-party testers and CDL applicants."
"We continue to examine opportunities to provide common-sense regulatory relief to states and to individuals seeking to obtain a CDL," says FMCSA Administrator Ray Martinez. "This proposal will provide states more flexibility, while maintaining safety on our roadways. I encourage all interested parties to review the proposal and to offer their comments to the docket."
The NPRM has yet to be published in the Federal Register, but once it is published, it will be open for a 60-day comment period at www.regulations.gov by searching Docket No. FMCSA-2018-0292. CCJ will publish an update to this story when the rule is available for comment.