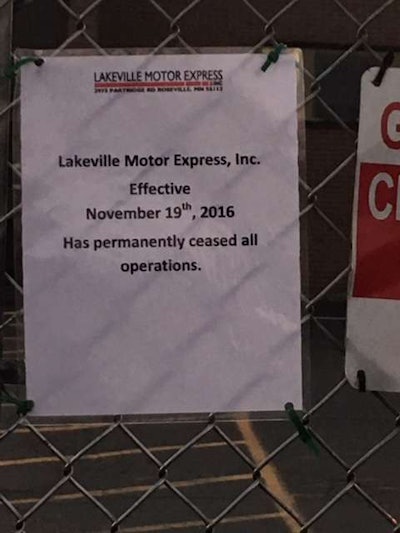 LME, Inc. — a roughly 380-truck less-than-truckload carrier operating out of Minnesota — abruptly shut down operations on Friday. A notice posted to its website Sunday confirmed the closure, blaming "unforeseen circumstances" and telling customers that other carriers would finish loads that were already in transit.
What's more, the carrier said in a separate announcement that it must pay its creditors before paying employees any owed wages. "Unfortunately our lender is in control of all finances. The lender must be paid all monies owed to the lender first before payment can be made to the employees. This process will take at least 90 days if not longer. Updates will be provided over time," the notice reads.
It's unclear what caused the carrier's sudden closure, but the fleet has been under investigation by the state of Minnesota and by the National Labor Relations Board for allegedly reopening as a "chameleon carrier," or reincarnated carrier, after the closure of its predecessor, Lakeville Motor Express, in late 2016.
Employees in November 2016 showed up to the company's headquarters to find its gates locked and a notice posted stating the company had ceased operations, telling employees and vendors that it could not pay them. The Teamsters helped back an investigation into the circumstances surrounding that closure.
The National Labor Relations Board also still has an ongoing investigation into whether Lakeville Motor Express reincarnated as LME.
Like 2016's abrupt closure, it appears LME did not file a WARN notice. Required by federal law, WARN notices are meant to provide workers 60 days notice in advance of a mass layoff.