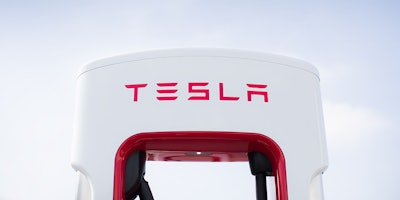 Note: This is the second of a two-part series that looks at the challenges facing the electrification of trucking. The first installment, "Electric trucks face hurdles from the 'cost of innovation,' infrastructure" can be found here.
Jim Reed, vice president for TA Truck Service, said the proliferation of electric trucks would prompt truck stops to evolve their business.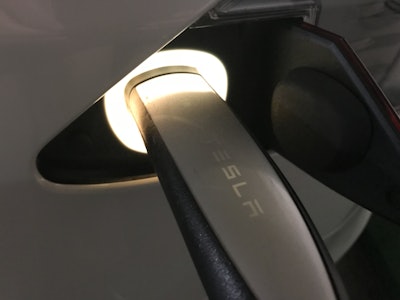 "We adapted and began to offer natural gas when that's what the market demanded, and we'll make the same shift when it comes to powering electric vehicles in the future," he said. "Our goal is always to take care of our customers and supply them with the fuel they need, whether it's diesel, natural gas or, one day, an electric charge."
Pilot Flying J already has dabbled in electrification, having installed Tesla charging stations at select locations between Dallas and Los Angeles.
"We're committed to doing everything we can to contribute to the future growth of the industry, and our team is always looking at new services and offerings to make life easier for drivers on the road," said David Hughes, senior vice president of sales for Pilot Flying J. "With professional drivers being our core customers, if and when this technology comes to trucks, Pilot Flying J will be ready to explore and support these vehicles."
Reed said there currently are no plans to deploy a charging network at the truck stop chain, but he noted it has been discussed.
"Advancements in battery technology have made it possible for electric trucks to perform in short-haul applications, but range is still a concern when it comes to the long-haul space," he said. "If electric long-haul trucks can eventually complete 500- to 600-mile runs and need convenient fast-charging stations along their routes, we feel we'll play a key role in supplying that."
How soon TA makes the shift will depend largely on customer demand and how quickly the market moves, Reed said.
"It will also depend on future improvements in battery technology, the development of charging system standards in the industry, as well as what kind of demand or impact future charging systems will have on our current electrical infrastructure," he said.
New ways to think
It's possible legacy truck makers could follow Tesla's lead in deploying their own network of power stations modeled after Tesla's Supercharger.
"I don't think Volvo is unique in looking at the business model to see what parts of the total value chain we want to play in going forward," Brandis said. "We've grown up in an industry where OEMs have made money by building and supporting trucks after the sale, and that's going to change dramatically, I think, when we're no longer building diesel engines and selling filters and typical maintenance repairs."
Roger Nielsen, president and chief executive officer for Daimler Trucks North America, called on the industry as a whole to tackle the infrastructure issue rather than relying on solutions to bubble up at the fleet level.
"Today, there's not a standard for charging infrastructure," Nielsen said. "We all need to work together toward this."
To help reach that goal, trucking stakeholders such as Cummins, Daimler, Penske, Tesla and Volvo Trucks have taken on roles with the Charging Interface Initiative (Char-In) to help roll out standardized charging stations for heavy-duty trucks.
Cities themselves also will play an important role in the electric truck and infrastructure rollout, Ramji said.
"They are the regulator at the ground level," he said. "The city as a unit really needs to rethink urban planning, because that's when you can really do this [infrastructure] effectively."
Smart urban planning could be the only thing keeping a tidal wave of EVs from crashing electric grids across the country.
"If 100 percent of the vehicles were electric tomorrow, it would be a big problem," said Mariana Bleck, head of Smart Mobility Business Development & Partnerships for EDP Commercial. "The grids are not prepared for 100 percent electrification. The problem isn't only production. That's a smaller problem compared to the capacity of the grid."
Bleck said that with energy demands growing so fast, the ways people consume energy is going to have to change when more EVs plug in.
"It's going to be a question of leveling the demand instead of just increasing production," she said. "If we're thinking about decarbonization, we can't think about building more coal plants and still be greener."