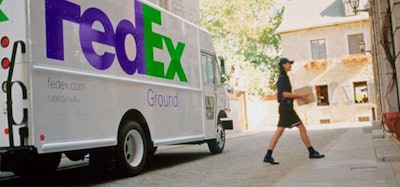 FedEx, who alongside UPS helped build Amazon's massive parcel delivery network, announced Wednesday it won't renewing its domestic contract with Amazon, effective at month's end.
The announcement from FedEx comes as Amazon increasingly has worked to build out its own delivery network, adding increased pressure to shipping partners FedEx and UPS.
In a statement, FedEx says it will instead focus on the broader e-commerce market. In a similar announcement in June, when the company announced an end to its air contract with Amazon, FedEx said revenue attributable to Amazon was just 1.3 percent in the 2018 calendar year.
"There is significant demand and opportunity for growth in e-commerce which is expected to grow from 50 million to 100 million packages a day in the U.S. by 2026," FedEx said in its June announcement to investors. "FedEx has already built out the network and capacity to serve thousands of retailers in the e-commerce space. We are excited about the future of e-commerce and our role as a leader in it."