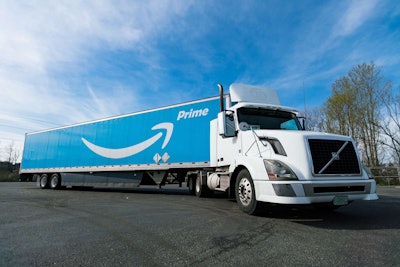 Amazon made a splash this month when it announced it would be picking up 20,000 new Mercedes-Benz Sprinter vans coming out of Mercedes' brand new plant in Charleston, S.C. The move signaled the online behemoth's continued push toward moving its logistics and delivery operations in house and away from long-time partners UPS and FedEx, who've been integral to the company's rapid growth. Amazon earlier this year took hold of 40 Boeing 767s, to be operated out of one of its hubs in Cincinnati for the same purpose.
That jockeying for position in the final mile segment is only the start of perhaps heated competition for the future of package delivery, said a panel of economists and carrier reps last week at the FTR Conference in Indianapolis, Indiana. Amazon, FedEx and UPS are the key players currently, but opportunities await others who are willing to position themselves and who have a keen eye on how the segment will evolve as e-commerce continues to gain marketshare, they said.
Though online commerce has grown dramatically over the past decade, much of it driven by Amazon, the transportation side of e-commerce's last mile component is still in its infancy, says John Larkin, managing director of investment banking for Stifel Transportation and Logistics. "We're in the top of the first inning of that battle," he said. "It's totally unclear how that's going to go. It's going to be a lot of fun to watch."
Larkin was joined on the panel by Bob Fatovic, chief legal officer at Ryder Systems, and John Hill, president and CCO of Pilot Freight Services, of whom Amazon is a customer. Avery Vise, VP of Trucking at FTR, moderated the panel.
E-commerce still accounts for only roughly 10 percent of all retail, said Vise. But it continues to see big year over year gains, with consumer habits and demographics shifting by the day. "Even during the Great Recession, [there was] measurable growth in e-commerce while we had no growth or negative growth in total retail."
Last mile, or final mile, is not a designation of a good's literal last mile, but rather how it gets to the consumer for use. For instance, the final mile of a television purchased at Best Buy is in the buyer's vehicle, bound from store to their home. The final mile of a package purchased from Amazon would typically be done by a parcel carrier from a local hub to the buyer's home.
Larkin posed broad questions about what the future of final mile delivery could look like. Amazon's Flex model, for example, allows part-time drivers to deliver goods in their own vehicles, similar to that of ride-sharing companies Uber and Lyft. For those drivers and for traditional delivery drivers, "Where do they deliver the package? Someone's house? An apartment building? Do they leave it inside the front door? Put it in the refrigerator? Put it in the trunk while the automobile is sitting outside an office building?"
Adds Fatovic, "Parcel delivery carriers did make a lot of money, and Amazon has watched that over the years. John [Larkin] is right — it's early innings, and it's the wild west." Fatovic said it's "the most exciting time, the most anxious time," in his 25-year career in trucking.
Amazon's quest for marketshare at the expense of profits is a chapter quickly coming to an end, Fatovic added, "but for anybody in this industry, there are opportunities to take advantage of whatever will be changing." Amazon has changed online buyers' delivery expectations to a prompt two days, if not faster in large markets, where same-day deliver options are common. "It's driving incredible growth in our business," he says.
Likewise, Walmart's online presence is "catching up rapidly" to Amazon's, says Hill. The retailer is shrinking delivery windows and beefing up customer experience. Other retailers are chasing both, he said, and from the transportation perspective, "it's less about price and more about service. The cheapest price to get it there isn't going to play anymore."
All three panelists forecasted big shifts in the retail sector, in which final-mile transportation plays a major role. Brick and mortar stores could become both showrooms and logistics hubs, says Larkin. "Is a showroom a version of what used to be a big box? [It could be] part showroom, part urban fulfillment center that allows for very rapid delivery," he said. "Two-million-squarefoot warehouses out in the middle of nowhere — those days are yesterday. As Amazon has raised the bar [on delivery expectations], you have to figure out how you're going to carry inventory in the urban core."
"It's happening today," said Hill, who said buyers often times will go to a store to find what they want, and then later buy it online. He pointed to online sales of furniture and electronics as "the biggest growth areas in e-commerce space for heavy bulk" items.
Fatovic envisions a store-like experience coming to the delivery sector, equating the experience with that of a higher-end department store like Macy's or Nordstrom's. He envisions a day where sales reps ride along with delivery drivers to engage with consumers.
"Macy's or Nordstrom's want to control the whole customer experience from the minute you walk in the door to the sale," he said. In the future, "maybe 50 percent of what you sell, the only contact will be the driver" making the delivery, he said. "Only three percent of drivers are women. There may be opportunities where brands want a different type of person to ride along for the delivery and go in with an iPad and say, 'hey, I realize you bought this $3,000 couch, and this end table goes with it and it's 50 percent off if you buy it today."