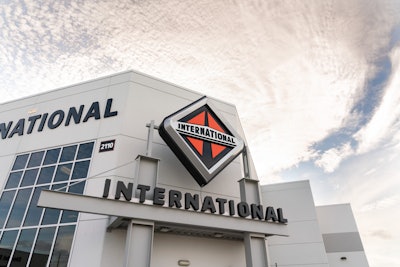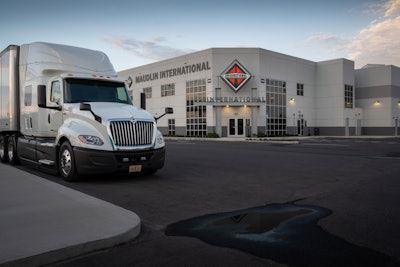 Over the last three years, Navistar has completely overhauled its International Truck line up and debuted a new engine – two strategies that have paid dividends in that they've helped inch the company closer to consistent profitability and a marketshare improvement to 17% last year.
At its media showcase Tuesday in Boulder, Colo., the Lisle, Ill.-based truck maker laid bare a customer-centric overview for further growth. The company's Vision 2025 is a collaboration between the company and its truck dealers set forth with a goal "to become the premier solutions provider and OEM of choice for trucking customers across North America."
Developed alongside its 700-plus rooftop dealer network, President of Navistar's Aftersales and Alliance Management Friedrich Baumann said Vision 2025 sets a clear path for the future: "To be the most customer-centric, innovative, and value-creating truck and bus solutions provider in the Americas, united with the most capable and aligned network in the industry."
Vison 2025 also represents a change in mindset, as the company transitions "from survival mode and this quarter-to-quarter thinking," Baumann said, into a more long-range strategy.
"Vision 2025 reflects a new level of company-dealer collaboration, one that's built on transparency, trust and shared goals," he said.
Parts and service foundation
Many future actions of the Vision are still in the works, but Baumann said the foundation is already in place.
Among the early rollouts of Vision 2025 was the service partnership with Love's Travel Stops, which took effect last week. The tie-up creates the industry's largest service network, encompassing more than 1,000 locations in North America. Under terms of the agreement, most Love's and Speedco service locations are authorized to perform standard, extended and used truck warranty work with service repair times of three hours or less for all International Class 6-8 trucks.
"We see that as an opportunity for our dealers to grow their independent and Fleetrite [parts sales] business," said Joe Kory, Navistar vice president of parts, adding the Love's partnership allows the dealership network to tap into a customer base that otherwise might be unlikely to return to a dealer.
Another initiative set to take effect this month is the opening of a Memphis, Tenn.-area parts distribution center (PDC) Aug. 26.
Located in Olive Branch, Miss. – approximately 30 miles south of the FedEx World Hub in Memphis, Tenn. – the state-of-the-art 300,000 square foot facility will serve regional dealers with rolling stock and emergency orders. The company's seventh PDC in the U.S. and tenth in North America also enables Navistar to deliver next day parts to more than 95 percent of its dealers' service locations due to its central location and proximity to FedEx.
Dealers can order as late as 11 p.m. Eastern time and still have the part arrive the next morning.
The extended hours of the facility also offer customers additional options when downtime falls outside typical business hours.
Navistar also plans to grow business through the expansion of its Fleetrite and ReNEWed parts lineup. Kory said International Truck dealers will be encouraged to open standalone retail parts stores in locations where a full dealership doesn't make sense. The stores would, Kory said, service customers who traditionally don't buy parts from a dealership because of the perceived OEM price premium.
Availability and uptime
Baumann said Navistar is further improving the company's dealer parts inventory management system and targeting several additional improvements in reducing total cost of ownership for the customer.
"Uptime and total cost of ownership will be the primary focus for parts providers," Kory added. "Those that are easiest to do business with will win."
Navistar has improved its 24 hour turnaround repair velocity by 73 percent from the beginning of 2018 to the third quarter of this year. Chintan Sopariwala, Navistar's vice president of uptime, said the goal is for 80 percent of all truck repairs to be completed in less than a day while the industry averages just under 50%.
"Having the part on the dealer's shelf maximizes the chances of a repair being completed in under 24 hours," he said.
Navistar as deployed a predictive parts stocking platform that has allowed the company to improve regional fill rates to nearly 100%, and boosted emergency fill rates by 3%. Using data gathered at the dealership level, customers can be routed to the closest dealer with both part availability and service capacity.
"We truly believe we're ahead of the pack in predictive stocking," Kory said.
Additionally, Cumberland International Trucks CEO Terry Minor said the company's OnCommand Connection telematics system has slashed diagnostic times for its 380,000 users.
"[Customers] typically call us when the truck hits the yard and ask us if we've already diagnosed it," he said.
Improved cooperation between dealers and Navistar
Navistar's Executive Leadership Team and the Executive Dealer Council last spring collaborated to develop and support a Vision 2025 Committee that they hope will differentiate the International Truck network from all others in the industry. The group is comprised of eight members – half from Navistar and half from the dealer network.
Minor, a Vision 2025 dealer channel committee member, said these new initiatives reflect the impact of Vision 2025 and the company-dealer collaboration it represents.
"Everything about Vision 2025 can be summed up with '[making the customer's] job easier to do business with us,'" Minor said.
Navistar has partnered with a third-party "mystery shopper" company that compares the International Truck dealership customer experience level to competitors within the company's top 150 markets. Whether or not the dealership gets the caller's contact information and how they meet the would-be customer's expectations is funneled back to the dealership by Navistar to drive improvements.
While customer centricity, uptime and total cost of ownership are already core concepts for Navistar and the International dealer network, Baumann called Vision 2025 "a fresh, collaborative effort to drive best-in-class service operations across its whole network."
"We collaborate weeks in advance on the agenda," said Justin Fink, of Lewisville, Texas-based Summit Truck Group. "[Dealerships] actually get to weigh in on what we're going to talk about. We have a thorough action plan before we leave the meeting that the dealer and the OEM agree on. Its been very refreshing as a dealer."
Minor said the early emphasis of the group was to improve the relationship between the company and its truck dealers to help drive uptime for their customers.
"The more dealer satisfaction we drive, that gets us to this growth prospective that we have," Baumann added.
Navistar also established its Aftersales business division. Led by Baumann, who headed Daimler Trucks North America's aftermarket business unit for many years before joining Navistar in April last year, Navistar's Aftersales unit manages every facet of the business after the sale of the truck, including oversight of parts sales and distribution operations, customer service and technology, uptime and total cost of ownership, integrated warranty, as well as dealer network management and development.
Navistar has hosted 39 in-person Vision 2025 workshops since January with 1,003 people having gone through it. Another 3,000-plus dealership level employees have participated online.
"We feel that it's incredibly important for us to get feedback from the dealer," said Mark Belisle, Navistar's vice president of distribution. "Not just the dealer principal but everybody who works at that dealership."
Belisle said that feedback will be used to further improve OEM relations with specific needs of the various channels at the dealership level.
"Our goal is to have a consistent experience for our customer base coast-to-coast," he added.