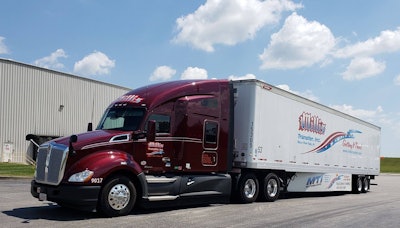 Heartland Express (No. 37 on the CCJ Top 250) announced Monday it has acquired Millis Transfer (No. 125) and related entities for approximately $150 million.
Millis, based in Black River Falls, Wisconsin, is a dry van truckload carrier. Heartland said in a press release the Millis management team will remain with the company in their current roles.
Michael Gerdin, chairman, president and CEO of Heartland, said his company will fund the purchase price and pay off the assumed debt with existing cash. He added that the company still expects to end 2019, after the transaction, with approximately $50-60 million in cash, no debt and approximately $90 million available through a revolving line of credit.
"We are very pleased to welcome everyone at Millis to Heartland Express," Gerdin said. "We are impressed with the high quality of the driving professionals and the organization's safety profile. In addition, the regional coverage, equipment, conservative and disciplined management style and culture are all very compatible with our approach… Millis has an outstanding fleet of equipment and we look forward to utilizing their fleet and professional drivers to serve our combined group of customers."
According to the Federal Motor Carrier Safety Administration's Safety Measurement System, Millis' fleet consists of approximately 850 trucks and 840 drivers.