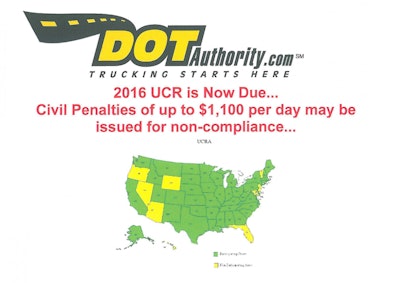 Nearly 15,000 small trucking companies that paid DOTAuthority.com or related defendants for commercial vehicle registrations will be receiving checks from the Federal Trade Commission.
FTC announced it is sending checks totaling $757,946 to 14,948 small businesses, an average of just over $50 per check. The refunds come from a $900,000 settlement paid by Excelsior Enterprises International, one of four corporate defendants in the case brought by the FTC. The others are DOTFilings.com, JPL Enterprises International and DOTAuthority.com.
Two individuals tied to the four businesses, James Lamb and Uliana Bogash, were also listed as defendants. Lamb also is president of the Small Business in Transportation Coalition, a lobbying group for truckers and small fleets.
This is the second round of payments issued by FTC for this case. Last October, the Commission sent checks totaling $89,736 to 246 trucking companies. FTC says its investigation recently uncovered additional customer information, leading the agency to send a second round of refund checks.
According to the FTC's October 2016 complaint, the DOTAuthority defendants scammed thousands of small businesses by sending misleading messages that implied the defendants were the U.S. Department of Transportation, the Unified Carrier Registration system or another government agency, or were affiliated with one of those entities. Lamb has contested the FTC charges, claiming his e-mails and robocalls clearly identified the sender.
The defendants agreed to an order settling the FTC's charges that bans the defendants from the illegal conduct alleged in the complaint. It also requires them, when contacting consumers, to disclose adequately that they are a private third-party service provider, as well as any fees associated with their services.
Trucking companies who did not receive a refund but think they should have may contact the refund administrator, Rust Consulting, at 866-303-8537.
Recipients should deposit or cash checks within 60 days, as indicated on the check.