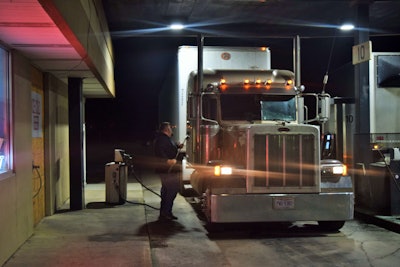 Diesel prices in the U.S. continued their recent downward slide during the ending Sept. 2. The nation's average price for a gallon of on-highway diesel fell seven-tenths of a cent in the week, to $2.976 — the lowest price since February.
Fuel prices have fallen in 15 of the previous 17 weeks, falling from a 2019 high of $3.171 during the week of May 6.
During the most recent week, prices fell in all regions except the Lower Atlantic and the West Coast less California regions, where prices held flat. The most significant decrease was seen in the Midwest, where diesel fell by 1.6 cents.
The most expensive fuel is in California, at an average of $3.885 per gallon, followed by the Central Atlantic region at $3.178 per gallon.
The cheapest diesel is in the Gulf Coast region at $2.74, followed by the Midwest and Lower Atlantic regions, both at $2.874 per gallon.
Prices in other regions, according to DOE, are:
New England – $3.027
Rocky Mountain – $2.924
West Coast less California – $3.139
ProMiles' numbers during the same week saw fuel prices fall by a penny to $2.876 per gallon nationwide.
According to ProMiles' Fuel Surcharge Index, the most expensive diesel can be found in California at $3.787 per gallon, and the cheapest can be found in the Gulf Coast region at $2.745 per gallon.