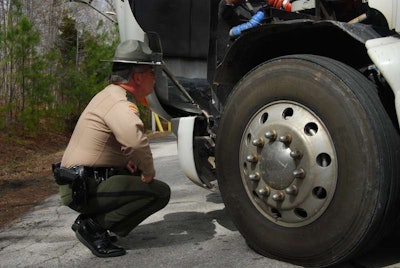 The number of trucks placed out of service during annual blitzes and inspection-focused weeks continues to astound me, if for no other reason that the vast majority of them are preventable.
Of 67,072 inspections during the Commercial Vehicle Safety Alliance's 72-hour International Roadcheck inspection blitz in June, more than 12,000 trucks were placed out of service – an alarming 17.9% vehicle OOS rate.
Think about that for a second. Nearly 18% of all the trucks inspected just three months ago were unfit to be on the road. In 2019 – a day an age where technology and access to information has hardly ever been better.
The focus of June's inspection was steering and suspension systems but during a Level I inspection, everything is in play. Case in point: CVSA says inspectors found 408 steering and 703 suspension OOS violations during Roadcheck, compared to 4,578 braking systems OOS violations. More than four times the amount of brake violations were discovered than the combined violations of the focus of the blitz.
The top violations were brakes (28% of the total), tires and wheels (3,156 OOS violations, or 19.3%), brake adjustment (2,801 OOS violations, or 17.1%) and cargo securement (1,991 OOS violations, or 12.2%).
Practically every one of those could have been prevented with better pre- and post-trip inspections. I'll concede things can happen over the road, unbeknownst to the driver, that could cause an OOS violation.
Vibration causes bulbs to blow. Pot holes can damage a suspension or wheel. Life happens, but not to the tune of an 18% OOS rate and such widespread carelessness has already hit home.
Michael Nischan, vice president of transportation & logistics risk control for Epic Insurance brokers, says some fleets are seeing insurance premium renewals jump 20% or more thanks to large truck-crash settlements and it's likely they'll climb again next year.
We've already seen an uptick this year in trucking bankruptcies, and insurance premiums jumping 20% per truck is a hard financial hurdle to clear.
Some insurers have left commercial trucking altogether, and the ones that remain are scrutinizing would-be customers like never before.
Strapping on a collision mitigation platform and video recorder system previously meant a carrier could expect a nice discount for deploying safety technology, but those are becoming the rule, not the exception.
The low-hanging fruit has all been picked so it now falls to making sure the truck is roadworthy before it ever leaves the yard. Electronic stability, automatic emergency braking, lane keeping and all that – none of it – makes a truck with a serious maintenance failure any safer to drive. But it can provide a false sense of security.
There's clearly a skills gap when it comes to vehicle inspection as evidenced by the fact the DOT is flagging violation after violation in what amounts to a mid-trip inspection. They aren't doing anything a driver or technician couldn't have done earlier that day. They're simply doing it better.
Low-quality inspections have been enabled by the rush to get new drivers trained and out on the road, but a driver's ability to inspect their rig is just as important as their ability to drive and back it. Yet, in June, nearly 60 percent of drivers placed OOS weren't checking their wheels, brakes or load securement and that's a blackeye for the industry as a whole.
If intensive bootcamp-style pre-and post-trip inspections aren't part of your onboarding practices, they should be. If spot checking behind a driver inspection to ensure it's a quality one isn't a regular thing, it needs to be. And if you're not incentivizing drivers who perform excellent inspections, you ought to be.
Considering the downtime associated with being placed out of service – combined with any fines and associated repairs – can reach several thousands of dollars, investing those dollars into bonuses and training seems like money better spent.
Download the 10th edition of the Air Brake Book, a comprehensive guide from CCJ that examines the ins and outs of air brake systems and components.