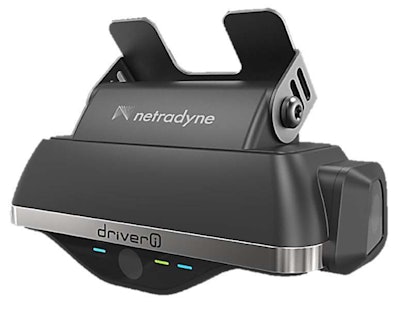 Fleet telematics suppliers have been latching onto vision-based technologies to expand their products' safety and risk management capabilities.
Given the cost of truck accidents, it's no wonder why fleets are looking at next-generation mobile platforms that combine telematics functions, like asset tracking and electronic logging, with video for recording events and coaching drivers.
Rather than develop camera-based vision systems in house, some telematics providers have decided to be resellers of established products in the market.
Such is the case with GPS Insight, a provider of fleet telematics software, with the addition of its 360° AI Fleet Cameras option through its partnership with Netradyne. The camera, called Driveri by Netradyne, uses a 360-degree view and machine learning software to instantly capture and review events from all angles of the vehicle.
The vision-based technology can monitor everything from a driver's point of view, such as following distance, reading traffic signals and speeding violations, explains Jenny Shiner, communication manager of GPS Insight.
The Netradyne camera captures and analyzes every minute on the road to identify driving violations such as speeding according to posted speed limit signs; stop sign or red light violations; and following distance based on what the device is seeing on the road.
"Additionally, the camera captures when a driver demonstrates positive behavior such as adjusting following distance to give space when another vehicle cuts in front or when the driver moves over a lane when there is a disabled vehicle on the shoulder," Shiner says.
Not only is GPS Insight a reseller of Netradyne, but the company plans to develop new fleet management applications such as "risk maps" that identify locations with an elevated accident risk in truck routes, and help familiarize drivers with nuances such as issues with certain delivery locations, she says.
GPS Insight does not currently offer its customers a single wireless data plan that combines its fleet telematics system with Netradyne's Driveri. At this stage, the two systems require separate subscriptions, the company says.