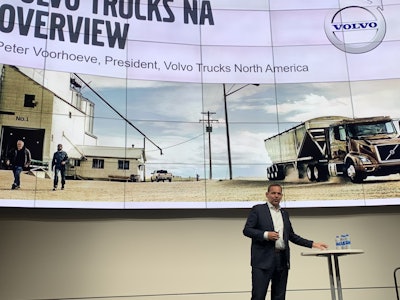 Volvo Trucks is setting its sights on market share growth in the U.S., a market company President Roger Alm calls Volvo's "second home market."
Through its 2,100 dealers and service points in more than 130 counties, Volvo Trucks delivered more than 127,000 units last year globally, and has more than 1.2 million trucks on the road sold within the last decade.
"That is driving a good service business for us and our dealers," Alm says.
Volvo market share climbed 2% in North America from 2017 to 2018. As of July, Volvo had 10% market share in North America and 10.9% in the U.S. through August. The U.S. is Volvo's largest market with 26,477 trucks delivered last year, more than twice the number delivered in its second largest market – Brazil.
TEC Equipment's Fontana, Calif., dealership is the largest Volvo dealership in the world and features 98 service bays.
"We are making major investments in serving our customers the best way," Alm said. "If we are investing, it should have an impact on our customer."
Since Volvo Introduced its VNR and refreshed VNL in 2017, truck sales have soared industrywide. A forecast of 325,000 trucks are set to be sold this year in North America, up from 311,000 the year before.
Peter Voorhoeve, president of Volvo Trucks North America, said strong style enhancements to Volvo's two flagship on-highway trucks, coupled with driver comfort offerings, has brought new opportunities for growth.
"Transporters are using Volvos to attract drivers," Voorhoeve said, noting he sees more fleets using Volvo trucks in driver recruitment marketing.
In the last 10 years, Volvo has invested $619 million in its 435 U.S. dealership network. Service bay capacity is up 64% and its master technician population has soared nearly 300%.
"I think we have a leading and competitive dealer network," Voorhoeve said.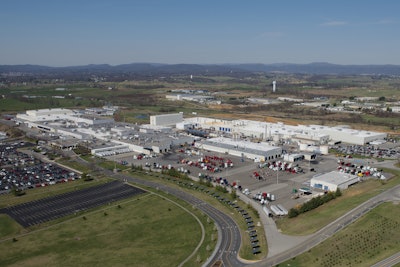 Volvo is also investing $400 million in its manufacturing facility in Virginia over the next 6 years – the site that manufactures all the Volvo trucks sold in North America. The upgrades include expansion of the industrial footprint and installation of a variety of state-of-the-art equipment that will improve plant efficiency and deliver even higher product quality for customers.
Pulaski County, Va., will support the project by granting Volvo 222 acres of adjacent property to expand the campus, and provide $500,000 toward site improvements. In addition to its financial investment, Volvo announced plans to create 777 new jobs at the facility over the next six years.
Major components of the investment include a new 350,000-square-foot building that will ultimately house truck cab welding operations; an expansion of the existing plant to allow for further improvements to the facility's paint operations and overall material/production flow; and a variety of equipment upgrades, including installation of several state-of-the-art dynamometers for vehicle testing.