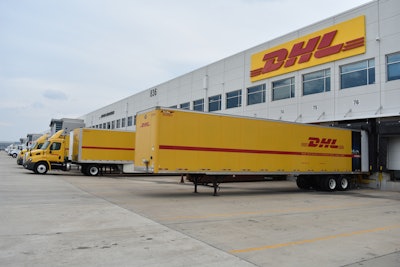 DHL Supply Chain, the largest contract logistics provider in North America and part of the Deutsche Post DHL Group, announced new developments in its transportation digitization strategy.
DHL Supply Chain is the largest and most diverse division of DHL with more than 2,000 warehouses in operations for customers as a third-party logistics provider (3pl). In North America, the company has a dedicated fleet of more than 2,000 power units, 3,000 trailers, and sources capacity from third-party carriers. Together, these transportation solutions account for 20 percent of its overall revenue.
Through a new partnership with Convoy, DHL Supply Chain is the first 3pl to integrate Convoy's network of carriers and pricing information into a supply chain application.
In tandem with this announcement, DHL Supply Chain is partnering with Turvo to add the company's real-time collaborative logistics platform so that all parties in freight transactions will share visibility and be able to take action on the same information at the same time.
Convoy's digital freight network and the Turvo platform are being integrated with MySupplyChain, DHL's proprietary end-to-end visibility and business intelligence platform that gives its customers a single web-based portal for accessing all order and supply chain information, from warehousing to final delivery.
Another new advancement in the company's digitization strategy is the expansion of robotics process automation (RPA) into everyday operations.
DHL Supply Chain has been using RPA for a couple years to automate repetitive tasks such as collecting documents for proof of delivery, scheduling loads, event tracking and reducing manual error and increasing speed. To date, in North America the company has offset over 5,000 hours of manual work with RPA, and globally has saved more than 31,200 hours per year during pilot projects.
"Before RPA, many basic, day-to-day tasks would need to wait to be completed until capacity allowed. Now they are done quickly and with a high level of accuracy, freeing our employees to spend less time doing busy work and more time doing the strategic value-added work they enjoy," said Jim Monkmeyer, president, transportation, DHL Supply Chain, North America.