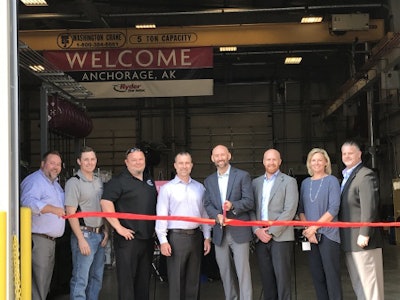 Ryder System, Inc., on Thursday announced the opening of the first full-scale maintenance facility in Alaska.
Located in Anchorage, the state-of-the-art facility provides maintenance, rental, and leasing services for commercial vehicle fleets all in one location.
This new location will replace the existing maintenance facility originally built largely to service The Odom Corporation's fleet, an 85-year-old family-owned beverage distributor and the facility's largest customer. The new facility, built to expand Ryder's ability to provide commercial vehicle services in the growing Alaska market, will house an increased number of employees.
"The new maintenance facility offers us the means to more reliably serve our customers," said John Odom, President and CEO of The Odom Corporation. "We're thankful for the investment Ryder has made in the community, and we're proud of how far our relationship has come since our very first truck rental from them in Spokane, Washington. We look forward to continuing to build on our footprint in the Northwest United States and the South Pacific."
Features of the New Facility
Ryder's new Anchorage facility was established with its customers and unique climate in mind. Strategically located just off the New Seward Highway and Walter J. Hickel Parkway, the new location is less than 1.5 miles from The Odom Corporation's warehouse. With below freezing temperatures for nearly half of the year, the Anchorage facility offers indoor wash bays and 30 plug-in locations to keep engines warm and ensure quick starts.
The new shop will be both three times larger than the old shop and have triple the number of employees, ultimately employing an estimated 16 people over the next five years to assist with rentals, leasing, maintenance, and shop support. The location will have six spacious work stations – more than double the capacity of the former location – and a sizeable selection of rental trucks and trailers on a six and a half acre lot. Future plans for the location include above-ground fuel tanks to provide a one-stop-shop for Ryder's customers.