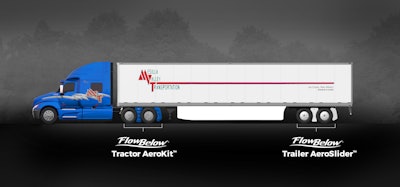 FlowBelow on Monday at the American Trucking Association's Management Conference and Exhibition in San Diego announced that Mesilla Valley Transportation (MVT) will equip all its new trailers with the FlowBelow Trailer AeroSlider system.
The AeroSlider, a patented aerodynamic system designed to address aerodynamic drag created by the trailer wheels and suspension, is designed to complement and provide additional fuel savings when used with other trailer-mounted aerodynamic devices such as trailer side skirts.
An early adopter of FlowBelow's Tractor AeroKit in 2014, MVT has since worked with every major truck OEM to offer the product from the factory on new trucks.
"They're already well above 9 miles per gallon average across 1,400 trucks," said Josh Butler, CEO of FlowBelow Aero.
Rather than attaching to the body of the trailer, Trailer AeroSlider is mounted directly to the sliding trailer suspension and travels with the suspension, consisting of multiple components including 'quick-release' wheel covers, fairings positioned between and behind the trailer wheels, and aerodynamic mud flaps behind them.
The AeroSlider has been tested using computational fluid dynamics, SAE J1321 type II fuel economy testing, and rolling-floor wind tunnel testing and verified by third-party fuel economy testing conducted by MVT Solutions. The fuel savings of the AeroSlider Stage 1 and Stage 2 system ranges from 1.37% to 2.07%, respectively. MVT will begin implementing the Stage 1 AeroSlider on all new trailers effective immediately – but plans to implement the Stage 2 system beginning in 2020.