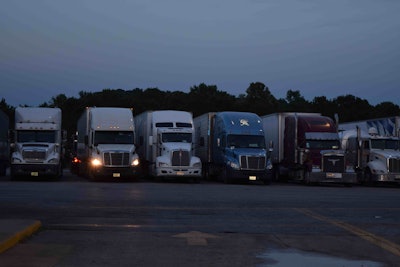 A small fleet that transports sensitive Department of Defense property, including ammunition and explosives, in interstate commerce is petitioning the Federal Motor Carrier Safety Administration to allow its team drivers to split sleeper berth time into 6/4, 5/5 or 4/6 hours. Current hours of service regulations allow drivers to only utilize an 8/2 sleeper berth split.
PTS Worldwide, a 20-truck fleet based in Somonauk, Illinois, says its team drivers travel more than 1,100 miles per 24 hours and average 60 hours on-duty per week. After five weeks on the road, the drivers get a week off at home. The company argues that it believes shorter rest periods in the sleeper berth would make them more alert.
In its request for relief, PTS says the shorter sleeper berth period would allow its drivers to have nighttime hours in the sleeper berth to minimize fatigue.
The company adds that its vehicle and driver safety record is better than the national average and that it has one of the best safety, security and service records of all DOD arms and ammunition transporters.
FMCSA is asking for public comment on the request for 30 days at www.regulations.gov by searching Docket No. FMCSA-2019-0184 when the request is published in the Federal Register Wednesday, Oct. 16.
The agency in its proposed hours of service changes – comments for which are due Monday, Oct. 21 – proposed a slight revision of the allowed split-sleeper berth options, which would allow drivers to split their off-duty sleeper berth time into two periods of seven hours and three hours, similar to the eight-hour, two-hour split allowed under current regulations. A significant difference, too, is summarized in the proposed rule's opening text: "Neither period would count against the driver's 14-hour driving window," unlike the shorter of the split periods under existing rules.