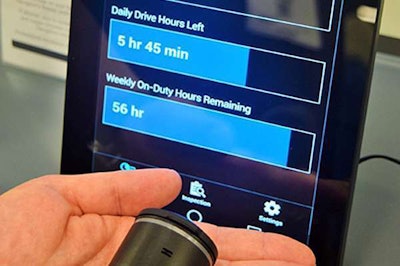 At the Great American Trucking Show in late August, reps from four electronic-logging-device and telematics providers joined Commercial Carrier Journal Senior Editor Aaron Huff for a roundtable on a variety of issues, including handling of data and issues of privacy and competition when it comes to that data. (Full video of the hour-long discussion is available above.)
Ken Evans, Founder and CEO of the Konexial company, which offers the My20 ELD, emphasized more than once during the discussion that, in his company's view, ELD users should "have the expectation that your data and your privacy is yours," yet granting access to a provider to some of that data could well provide opportunity. In Konexial's case, its GoLoad service can set users up to easily make themselves "available to a broad market" of shippers, not brokers, directly engaging the service.
Its function isn't like that of a load board in the traditional sense, Evans added, rather sending "opportunities directly to your phone" via an app. Evans' emphasis on shipper-direct freight in GoLoad makes GoLoad one of at least two marketplaces that operate not as a broker but as a technology provider connecting shippers and carriers directly (the other is the RiteLoad company).
Tapan Chaudhari, TruckX founder and president, echoed Evans' general thoughts on data ownership and expectations, particularly as it relates to access branching into third-party tracking providers now integrating with ELD providers. "We have taken a big stand on privacy," Chaudhari said. "We do not integrate with third-party vendors" of track-and-trace services. "We give the control entirely to trucking companies. It's easy to misuse and interpret that data in several ways."
As did other panelists, Chaudhari pointed to services beyond basic e-log compliance that his company offers geared toward individual operators, like the ability to build-in periodic pre-deadline "notifications for documents [needing updating] like CDL renewal, medical certification," and more.
"Nobody's in a race to be regulated," noted Pedigree Technologies CEO Wade Wilson, speaking to general antipathy among truckers to the mandate. Yet a variety of business cases can be made for telematics technology enabled by the company's OneView ELD Chrome platform andproduct. Given that companies run on two basic things — people and data — Wilson emphasized a "basic approach to people – getting drivers home," helping people be "more efficient. That's just the beginning, though."
Wilson also emphasized telematics data as a window into maintenance intervals that could deliver "conditional versus interval-type maintenance – when does your filter really need to be changed?"
Samsara Director of Product Management Michael Ross said that he believed basic ELD functionality "will become commoditized over time," with little opportunity to differentiate products within it. The best question for fleets to ask of their providers, then, may be just how the provider can "build on top of that to help you," he said. Ross saw plenty of opportunity for fleets of all sizes "to coach drivers" toward better safety outcomes. And "when you can integrate an ELD with an asset tracker, [and] integrate that with a camera. …. An incident in [or around] the truck: you know how exactly what happened."
The transition between AOBRD and ELD specs will vary depending on the operation and the device.
Nick Davies, Global Director of Technical Sales for Fleet Complete, owner of the BigRoad ELD system popular with owner-operators, said Fleet Complete had seen larger fleets jumping into the transition earlier than its small fleet customers, perhaps reflective of the size and scale of their operations and ensuing complexity.
For any size operation, though, he recommended having "a champion in the organization who is a driver and understands the differences" in AOBRD and ELD specs, including procedures for handling edits, yard moves, personal conveyance mode and more.
"Start moving over early," Davies added. "Do a check-in with your ELD provider: Is the hardware sufficient for the ELD mandate?"
Have high expectations for customer support from any provider, noted Ken Evans of Konexial, addressing a point of contention for some motor carriers since the early days of the mandate. "You should have an expectation of your tech provider that systems work 24/7 without any degradation of support – I can't see a situation where your provider should have some kind of outage. The way the cloud works, you should be able to have redundancy."
Said Wilson with Pedigree: "All of us up here have 99.9% as a goal for uptime."
And, added Davies of Fleet Complete, "The onus is on us to provide hardware that doesn't fail," that "will last and stand up to the rigors of trucking," particularly given the risk of being in violation of or having to request extension after extension to the eight days FMCSA gives carriers to replace a malfunctioning device.