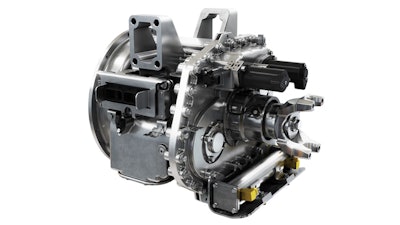 At the North American Commercial Vehicle Show in Atlanta Tuesday, Eaton announced plans to launch a 4-speed transmission for heavy-duty electric commercial vehicles.
Designed for Class 7 and 8 commercial vehicles operating across numerous segments – including pickup and delivery and port drayage – the transmission is currently being tested with multiple truck OEMs.
Eaton Senior Vice President of eMobility Scott Adams said the new transmission will aid electric trucks in climbing grades under load at highway speed by expanding the range of the motor. Adams noted the heavy-duty 4-speed EV transmission solves the biggest issue related to single-speed drives: contradictory requirements for high efficiency at top speed and increased torque at launch and low speed.
"With this addition, the vehicle can perform well on hills and efficiently at highway speeds with a smaller, less costly motor," he said. "This is a purpose built heavy duty EV transmission."
By providing higher output speed capability and torque range than a direct-drive system, Adams says the transmission enables the usage of a smaller, lighter electric motor for large commercial vehicles, cutting down on the cost, which to-date has been hurdle in EV adoption.
The transmission is based on traditional lay shaft architecture typical of AMTs but is engineered specifically for electric commercial vehicle applications. Unlike traditional commercial vehicle transmissions, Eaton's 4 speed EV gearbox does not have a clutch, rather shifts are synchronized using the traction motor. It also operates at higher speeds than its traditional internal combustion gearbox counterparts, and gears are optimized for typical electric motor performance and power curves for maximum efficiency.
Fine-pitch helical gears, Adams said, enable smooth, low-noise operation, while the Eaton Transmission Control Unit's shifting strategy is designed for fast gear changes and maximum efficiency, which extend range and battery life.
Eaton's eMobility portfolio already includes electrified vehicle (EV) transmissions and other componentry, including medium-duty 2- and 4-speed models currently in production with multiple OEMs.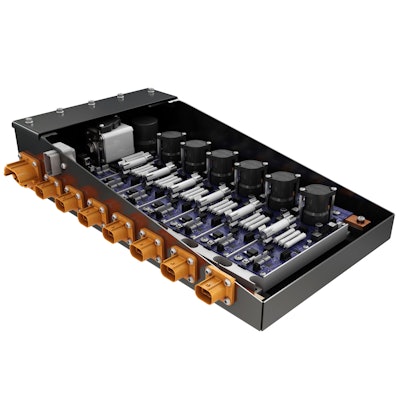 Eaton also introduced Tuesday a new Flex Power Distribution Unit (PDU) for high-voltage electrified commercial vehicles designed to handle multiple load requirements. Eaton reached an agreement with Cummins to supply elements of the Flex PDU, which reliably distributes power and keeps the vehicle and occupants safe while protecting power electronics from short circuits, crash events and other electrical system faults.
Adams noted that as power demands in electric vehicles continue to increase, the capabilities of PDUs, which connect the main battery power to the rest of the vehicle, must also increase.
Eaton's new Flex PDU, Adams said, not only protects vital components and occupants, but also provides diagnostic information to the OEM via the Controller Area Network, including where the most power is being consumed to optimize performance and efficiency.
The Flex PDU, which combines all the benefits of an automotive PDU into flexible and modular packaging, can be tailored to customer specifications with short lead time, making it ideal for low-volume commercial vehicle applications. For each output channel, the high-voltage Flex PDU offers isolation detection, voltage and current sensing, pre-charge functionality, high-voltage interlock, and circuit protection and switching capability.
The Flex PDU is scheduled to go into production by 2021.