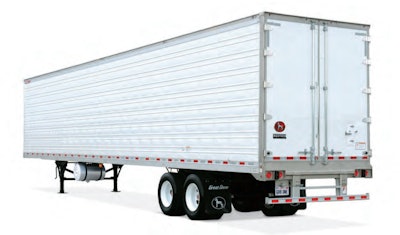 Great Dane has formed a partnership with Coretex to use its FleetPulse smart trailer system for refrigerated trailers. The product offering is called FleetPulse with Reefer Control by Coretex.
"We're thrilled to collaborate with a leader like Coretex and establish a foundation upon which reefer fleets have a complete solution for their trailer and refrigeration unit," said Mike Molitor, director of business development for Great Dane. "FleetPulse continues to grow beyond just GPS to help meet the needs of today's most advanced fleets."
FleetPulse is a trailer telematics system that integrates with a variety of trailer components to collect measurements and allow fleets to keep watch over critical items like GPS location, tire inflation system, doors, trailer cargo weight (e.g. load status), burned-out lights, ABS fault codes, and actual mileage.
"One of the core principles behind FleetPulse is to have rigorous discipline around validating each connected component. The Coretex technology is a proven and tested platform and is trusted by some of the most sophisticated reefer fleets that use both Carrier and Thermo King assets," Molitor said. "Together, we provide refrigerated fleets a seamless, single source of data from the combined trailer and reefer unit and eliminate the annoyance of multiple subscriptions."