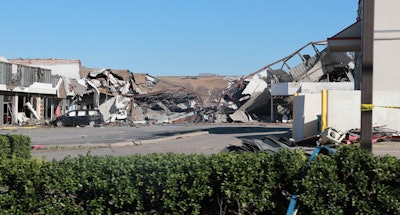 Images from @DallasCityMgr's visit of the areas impacted by Sunday's EF-3 tornado. pic.twitter.com/bjhgqVgwKD

— City of Dallas (@CityOfDallas) October 23, 2019
Truck drivers and carriers providing direct assistance to storm-damaged areas in Texas after tornadoes and other severe weather hit north Texas Sunday, Oct. 20, are exempt from certain regulations following an emergency declaration issued by the Federal Motor Carrier Safety Administration.
Additionally, carriers seeking temporary operating authority to help with storm relief in Texas will not be required to pay Temporary Operating Authority Registration fees.
A Regional Emergency Declaration issued by FMCSA's Western Service Center exempts carriers providing direct relief to Texas from Parts 390 through 399 of the Federal Motor Carrier Safety Regulations.
Direct assistance includes emergency relief efforts transporting supplies, goods, equipment and fuel into Texas. Direct assistance is terminated when a driver or vehicle is used in interstate commerce to transport cargo or provide services not directly related to emergency relief.
According to a report by The Dallas Morning News, nine tornadoes hit the Dallas-Fort Worth area Sunday, ranging from EF0 to EF3 in severity. The report states no one was killed or badly injured during the outbreak, but property damage is extensive.
6:25 PM – 2 additional brief tornadoes were confirmed in Kaufman County, bringing the event total to 9 in North Texas. #dfwwx pic.twitter.com/KcxCXByJcP

— NWS Fort Worth (@NWSFortWorth) October 22, 2019