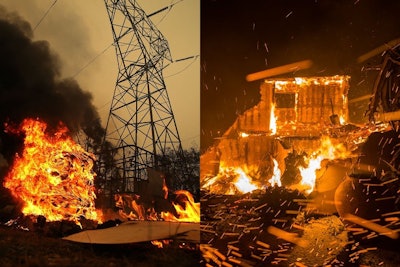 Multiple wildfires across California have prompted the Federal Motor Carrier Safety Administration to suspend certain regulations for truck drivers providing direct assistance to the state, including hours of service and more.
FMCSA is also suspending the Temporary Operating Authority Registration fees for carriers requesting temporary authority to provide direct assistance to emergency relief efforts in the state.
Trucking companies hauling supplies, goods, equipment and fuel into California, or providing other emergency assistance, are exempt from Parts 390 through 399 of the Federal Motor Carrier Safety Regulations (FMCSRs). Direct assistance ends when a truck is used in interstate commerce to transport cargo or provide services not directly supporting the emergency relief effort.
At least three large wildfires are threatening millions of people in California between Los Angeles and the Sacramento area. The National Weather Service in Los Angeles says a mixture of high winds and dry conditions sets up for wildfires to spread rapidly Wednesday and Thursday.
#EasyFire is approx 200 acres and moving to the west being pushed by the Santa Winds. Mandatory evacs posted on https://t.co/7Y5goEusNH @VCFD @CountyVentura @SimiValleyPD pic.twitter.com/dv74I8nO7L

— VCFD PIO (@VCFD_PIO) October 30, 2019
Wildfires in California are threatening the Ronald Reagan Presidential Library
pic.twitter.com/hw47IGBpUc

— Daily Caller (@DailyCaller) October 30, 2019
Two weather stations in Southern California are reporting hurricane-force wind gusts, including one located just seven miles north of a new wildfire in Simi Valley. Follow live updates: https://t.co/JFkT8C1mQk pic.twitter.com/9HJQhfztzm

— CNN Breaking News (@cnnbrk) October 30, 2019