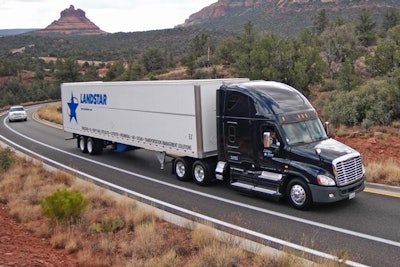 Landstar System, No. 8 in the CCJ Top 250 and the largest employer of owner-operators in the U.S., appears poised to restructure its California operations in the wake of a new California law that restricts the use of independent contractors by businesses.
According to a letter sent to the company's more than 10,000 owner-operators, Landstar will be contacting its California-based owner-operators to "discuss some options relating to the potential impact of" A.B. 5. The law takes effect Jan. 1 and effectively bars trucking companies from contracting with owner-operators. Landstar says its contractors will need "to make [their] own informed business decisions with respect to how [they] wish to react to A.B. 5" based on the options Landstar provides.
Landstar confirmed that it sent the memo to its independent contractors on Nov. 4, but the company declined to comment on what options would be available for its California-based owner-operators. The company said it estimates that, of its more than 10,000 owner-operators, hundreds are based in California.
The company said it doesn't anticipate any service disruptions for its customers as the law takes effect. Likewise, Landstar says it doesn't anticipate its owner-operators based outside of California, including those who occasionally pick up and deliver loads int he state, to be impacted.
As reported by CCJ in recent weeks, carriers and owner-operators face a few choices in how to deal with A.B. 5, explored in-depth at this link. Fleets could choose to cut ties entirely with California owner-operators, or cut ties with the state itself by no longer doing business there. Owner-operators could also work with their carrier to transition to a company driver, rather than an independent contractor. Lastly, carriers could establish a brokerage arm, separate from their carrier operation, to broker loads to independent owner-operators.
Landstar is far from the first carrier to signal a move away from owner-operator contractors in California. Swift, part of the Knight-Swift conglomerate, reportedly ended its arrangements with leased owner-operators in California in March, part of a flight from hiring owner-operators due to the California Supreme Court's decision in the Dynamex case in April 2018. The Dynamex decision led directly to the state's passage of A.B. 5 in September.
The Dynamex decision also prompted a wave of carriers of all sizes to abandon contracting with owner-operators in California, said Joe Rajkovacz, director of government affairs for the Western States Trucking Association, earlier this year.
Western States and the California Trucking Association have mounted legal challenges against the "ABC test" for determining whether a worker should be classified as an independent contractor or an employee. The ABC test was established by the Dynamex case and is at the heart of the A.B. 5 law. The two groups have also said they intend to press the California legislature for a solution to allow owner-operators to continue running in the state and to allow fleets to continue to contract with owner-operators.
Landstar acknowledges the potential for those challenges in its memo to contractors. But the company notes that legal challenges could take years to resolve and that it must take steps to remain compliant with California law until those challenges play out.