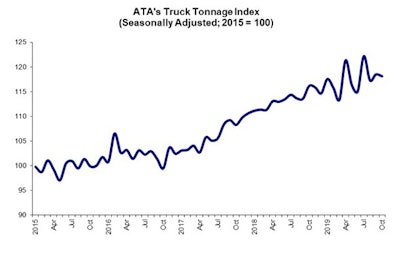 CCJ's Indicators rounds up the latest reports on trucking business indicators on rates, freight, equipment, the economy and more.
Truck tonnage, a monthly measure of freight demand issued by the American Trucking Associations, dipped slightly in October from September, though tonnage was up from the same month last year.
ATA chief economist Bob Costello attributes the month-to-month dip mostly to a slowdown in manufacturing. But both the month-to-month and year-over-year changes "fit with an economic outlook for more moderate growth in the fourth quarter," he said.
Compared to September, tonnage was down three-tenths of a percent. Compared to October 2018, tonnage was up 1.7%.