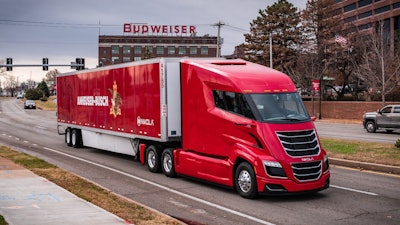 Anheuser-Busch, in partnership with Nikola Motor Company and BYD Motors, completed Thursday a zero-emission beer delivery in the brewer's hometown of St. Louis.
Nikola's hydrogen-electric truck picked up the load of beer and delivered it to Anheuser-Busch local wholesaler partner, Lohr Distributors, marking the first commercial delivery using a Nikola hydrogen-electric vehicle.
Lohr Distributors then delivered the beer to the Enterprise Center, home of the National Hockey League's St. Louis Blues, on a BYD electric truck.
Last year, Anheuser-Busch placed an order for up to 800 Nikola hydrogen-electric powered semi-trucks and announced a pilot project with BYD in California last month at four Anheuser-Busch distribution facilities across southern California. The 21 BYD electric trucks, as well as a 958.5 kW solar array to charge the vehicles, will be implemented this year as the largest Class 8 electric truck deployment in North America.
Nikola Chief Executive Officer Trevor Milton said the Phoenix-area truck maker is "now preparing production vehicles for Anheuser-Busch, and plan on delivering the trucks as fast as possible."
Anheuser-Busch is hosting more than 100 strategic suppliers and partners in St. Louis this week for their inaugural Eclipse Summit to discuss best practices and align on collective action in sustainability. Both Nikola and BYD will be participating in the summit to highlight their cutting-edge technology and the impact of their partnerships with the brewer.
Nikola set to debut new battery technology
November has been a big week for Nikola as earlier this week the company announced details of a new battery featuring energy density more than double current lithium-ion battery cells.
The prototype cell, Nikola said, is the first battery to remove binder material and current collectors, enabling more energy storage within the cell itself.
Milton said the new battery technology could increase the range of current EV passenger cars from 300 miles up to 600 miles with little or no increase to battery size and weight.
"This is the biggest advancement we have seen in the battery world," he said. "We are not talking about small improvements. We are talking about doubling your cell phone battery capacity. We are talking about doubling the range of BEVs and hydrogen-electric vehicles around the world."
Nikola will show the batteries charging and discharging at its Second Annual Nikola World next year.
Milton said, using the new battery technology – which the company will not protect with a patent – Nikola's battery electric trucks could now drive 800 miles fully loaded between charges and trucks could weigh 5,000 lbs. less than competitive models.
Milton noted the development in new battery technology doesn't change its plans for a wide range deployment of hydrogen, noting "it equally helps hydrogen like it does [battery electric vehicles]. It doubles the range of our hydrogen truck," he said. "Trucking needs fast and light trucks [and] hydrogen has that advantage."