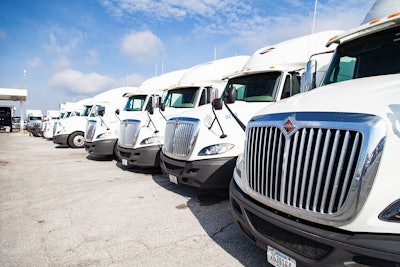 Celadon shuttering operations, announced Monday via trucking's largest Chapter 11 bankruptcy filing to-date, is expected to displace thousands of drivers as the company winds down in the weeks ahead, but it also means pulling more than 3,000 trucks and tractors – and nearly 10,000 trailers – off the highway.
Those trucks – at least how they were accounted for by prior administrators – were among the factors cited by Celadon CEO Paul Svindland for the company's demise.
The New York Stock Exchange halted trading of Celadon stock in mid-2017 when the Indianapolis-based company pulled required financial filings after an independent auditor found discrepancies in its financial reports.
Celadon, No. 41 in the CCJ Top 250, later reported that it had overstated income by as much as $250 million from 2014 to 2016. The over-reported income was based on an alleged scheme in which former Celadon executives sold used trucks to third parties at inflated prices, then bought back the trucks at those inflated prices to avoid recording losses on equipment sales in an attempt to mask the much-lower book value of company assets.
This year already hasn't been kind to used truck prices. Through the first 10 months of 2019, 4- to 6-year-old trucks were bringing 10.7% less money than the same period of 2018, and J.D. Power Senior Analyst and Product Manager for Commercial Vehicles Chris Visser said the year's average is heavily skewed by market strength early in the year.
"If we narrow our comparison to September-October 2019 vs. September-October 2018, the variance increases to 26.8%," Visser said. "Fortunately for the used market, Celadon recently started taking delivery of 2019 and 2020 models, which are valuable, but the additional hundreds of sleepers entering the market in 2020 will basically be a piling-on scenario. Celadon's trucks will be additional supply in a market that's already over-saturated."
Avery Vise, FTR vice president of trucking, noted it's possible that many of Celadon's soon-to-be parked trucks never see the open market.
"It is likely that much of that equipment would be reassigned before hitting the retail used market, perhaps even acquired by some of the carriers that end up with Celadon's book of business," he said. "It seems unlikely that the equipment idled by the shutdown would move the used market."
However, should Celadon elect to liquidate its truck assets, Visser estimated an influx of those units early next year "will have a mild to moderate impact on the market."
"If new truck deliveries industry-wide are running in the low-20,000 range, and we're in a one-for-one trade scenario, the impact from Celadon should be mild to moderate," Visser added. "Generally, new and used truck supply is still appropriate for the economy of 2018, not today. We're on the back end of a cycle that was more volatile than most, due to the short-term economic juice from 2018 tax cuts and incentives, compounded on the downside by the tariff war. And the second half of 2020 will be impacted by a presidential election, which limits investment even in less contentious times."
Visser expects used truck depreciation to level off toward the second quarter of 2020, but he added there is still some devaluation to work through before the industry hits the pricing low point set in late 2016.
"We will reach that level and possibly surpass it in the first quarter," he said. "What happens beyond that will depend on whether the current manufacturing pullback represents the start of a wider economic retrenchment. Signs are increasingly pointing in that direction."
Visser said any fleet running late-model sleepers is sitting on inventory currently worth roughly 25% less at auction than this time last year, and heaping additional assets from bellied-up carriers into the pipeline will do nothing good for prices.
"The industry better hope other major players are better suited to absorb these write-downs," he said.