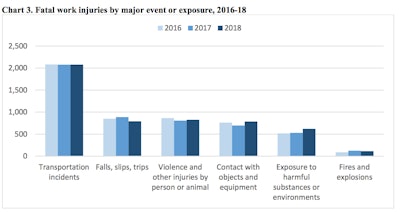 The Discovery Channel has convinced me of two things: You can erect Xanadu in an Alaskan wilderness without electricity, and that catching crabs in the ocean somewhere between Alaska and Russia will get you killed.
But, according to statistics released this week by the Bureau of Labor Statistics (BLS), producers of Discovery's hit show Deadliest Catch should consider climbing off the F/Vs and into a B/R (big rig).
There were 5,250 fatal work injuries, according to the BLS, recorded in the U.S. in 2018 – a 2% increase from the 5,147 recorded in 2017. Transportation incidents remained the most frequent type of fatal event at 2,080, accounting for 40% of all work-related fatalities.
Driver/sales workers and truck drivers accounted for the most fatalities of any broad occupation group at 966. Among all detailed occupations, heavy and tractor-trailer truck drivers had the most fatalities at 831 – ten times more than drivers in "light truck or delivery services."
In 2018, there were 621 fatal injuries to independent workers – a category which includes owner operator truckers. That figure is up from 613 in 2017. Independent workers made up 12% of all fatal injuries in 2018 and the occupation with the most fatal work injuries to independent workers last year was, you guessed it, "heavy and tractor trailer-truck drivers" with 96.
If you add the independent group and the occupation group together, 927 "heavy and tractor-trailer truck drivers" were lost in the line of duty last year.
Obviously, traffic accidents aren't helping here. The number of crash fatalities involving large trucks increased slightly in 2018 from 2017 with 46 more fatalities in 2018 than the previous year, according to numbers released by the National Highway Traffic Safety Administration (NHTSA) in October.
According to NHTSA, there were 4,951 people killed in crashes involving large trucks in 2018, up from 4,905 in 2017 (a 0.9% increase). Of those fatalities, 885 were large truck occupants.
Rubbing the NHTSA data against that from BLS, you can derive that the cause of 95% of fatal work injuries to truck drivers were crashes.
Trucking's fatal injury rate of 28.3 – a rate that represents the number of fatal occupational injuries per 100,000 full-time equivalent (FTE) workers, according to the BLS – accounts for nearly 4.3 billion hours worked, but ranks behind fisherman and loggers – another Discovery Channel show, briefly.
While truck drivers had the highest fatality rates in 2018, the death rate rose more among the loggers, fishing industry, pilots and flight engineers and roofers, which each had fatality rates more than 10 times the all-worker rate of 3.5 fatalities per 100,000 FTE workers.
Driving on the highway and loading/unloading in the yard may not get the same primetime TV play as logging in the Yukon or crabbing in the Arctic Circle, but trucking certainly holds the dubious distinction as America's deadliest job without ever setting a tire on an ice road.