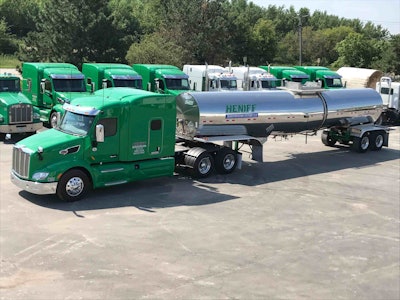 Two liquid bulk carriers, Superior Bulk Logistics and Heniff Transportation, announced a strategic transaction to create one of the largest bulk carriers in the industry.
Heniff raised the capital resources for the acquisition by partnering with Olympus Partners and a consortium of lenders. Financial terms of the acquisition were not announced.
Olympus Partners is a private equity firm focused on providing equity capital for middle market management buyouts and for growing companies, managing a portfolio in excess of $8.5 billion.
The companies are both based in Oak Brook, Ill., and are similar size in terms of revenues, equipment and drivers. Heniff (CCJ Top 250, No. 104) had 2018 revenues of $293 million and Superior Bulk Logistics (CCJ Top 250, No. 99) grossed $252,258,000 million.
According to the announcement, the two companies will be able to provide their customers with more efficient shipping capacity and cost-effective transportation solutions by combining resources, which include nearly 2,000 highly trained drivers and an integrated network of nearly 100 terminal locations.
"We are constantly seeking ways to improve our customer service capabilities," said Bob Heniff, founder and chief executive of Heniff Transportation. "Superior has been a top tier carrier for many years. We are confident that our customers, drivers and employees will benefit from the ability to offer more comprehensive shipping solutions."
Wes Stone, CEO of Superior, added his support for the transaction. "Today we have taken two high performing carriers and have created a true market leader. We will continue to seek opportunities to extend our customer service capabilities by expanding into new geographies, new service lines and by continuing to invest in our fleet assets and operating platforms."
Stone will continue to serve as president and chief commercial officer of the company focusing on business development.
The new combined organization includes Miller Transporters, purchased by Heniff in 2018, and Carry Transit, a property of Superior. The four entities provide liquid bulk and food grade transportation as well as tank cleaning, rail transloading, ISO depot and maintenance services.
Justin Neal, vice president of performance and analytics for Heniff, told CCJ with the large rail transloading network of Superior, and the additional lane density and tank washes, it just makes logical sense across the entire picture. "We couldn't be more excited for this," he said.