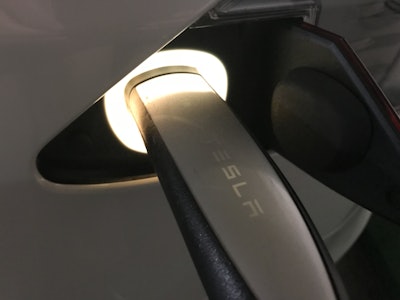 An era of electrification has been bubbling just beneath trucking's surface for several years but the day it comes to a rolling boil is soon coming.
During the opening panel discussion Monday at Heavy Duty Aftermarket Dialogue (HDAD) in Grapevine, Texas, Delphi CEO Rick Dauch and Dana Incorporated CEO Jim Kamsickas estimated the age of electric trucks would arrive this decade, and shared their experiences evolving their businesses for an electric future.
Dauch, who celebrated this month his first year at Delphi after several years at Accuride, is anticipating the next three to five years will feature "generational changes" for the global transportation industry as countries across the globe introduce stricter emission standards and subsidize the adoption of electric vehicles.
"We think we're going to double our [electrification] business in the next five years," he says. "We are not sure when exactly it will come, but it's coming."
Dana has spent the last several years investing heavily in electrification to become an "energy source agnostic" supplier, Kamsickas said. Like Dauch, Kamsickas doesn't expect the diesel to electric transition will hit the U.S. trucking industry immediately, but said the writing is on the wall. Once adoption rates start rising, acceptance will hit the industry like a wave.
"If you're asking yourself if this is coming or not, just look at Rivian getting 100,000 orders from Amazon," he said.
The big challenge now for global suppliers, the panelists agreed, is transitioning their businesses to be ready to ramp up electrification production on a dime without abandoning the core businesses that drive their companies today. Dauch said Delphi has opened four new production facilities across the globe to support its electrification business. One of the facilities in China hasn't made a single part since it was completed last summer, which Dauch said has been a tough sell to the company's board but does provide Delphi immediate scalability for the Asian market once adoption rates start to climb.
Dana has made similar investments, though Kamsickas said his company has discovered preparing for electrification requires more than simple manufacturing investment and sourcing preparedness. The hard part about electrification isn't figuring out how to design and build the components, it's understanding how the components will subsist within new connected vehicles.
Kamsickas said today's supplier community has to have "full competency to understand the manufacturing view."
On that note the panelists noted the importance of global suppliers shifting their recruitment strategies to attract the talent necessary to design equipment for an electric future. After decades of hiring the best and brightest mechanical engineers they could find, suppliers today are increasingly focused on recruiting and retaining electric engineers and software engineers.
Speaking to the Heavy Duty Aftermarket Week (HDAW) interns from Northwood University, Dauch advised, "If you can come out of school with a good understanding of electrification, you'll be a leader in your company on Day 1. Seriously."
As for parts availability, the panelists said their businesses continue to invest heavily in their distribution channels. Electric powertrains require fewer components than their diesel counterparts, but the number of SKUs won't matter to a fleet customer when they're broken down on the side of the highway.