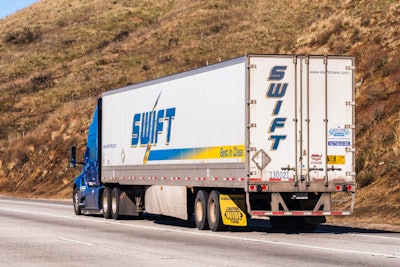 Trucking news and briefs for Wednesday, Feb. 19, 2020:
Knight-Swift integrates Truckstop.com's Book It Now into network
The brokerage arm of Knight-Swift Transportation (No. 4 on the CCJ Top 250) has reached an agreement with Truckstop.com to bring the freight-matching platform's Book It Now feature into the fleet's freight network.
The integration is meant to help Knight-Swift's owner-operators and third-party trucking companies have smoother access to Knight-Swift loads.
"Integrations like this will help us to quickly deliver more load options to our independent truckers at the click of a button," said Shannon Breen, senior vice president of Knight-Swift Logistics and Intermodal. "As we continue to scale our robust capacity offering to customers and carriers nationally, these types of partnerships and collaborations are essential."
Truckstop.com says Book It Now allows Knight-Swift to post a rate and allow their preferred-partner carriers instantly book loads and receive automated confirmation for the loads they choose.
During the second phase of the integration, Knight-Swift will bring many of its owner-operators to the Truckstop.com load board, and brokers will be able to flag Knight-Swift owner-operators as a preferred carrier. The second phase is set to be complete by March.
Diesel prices continue recent slide
Diesel fuel prices across the country continue to fall as 2020 rolls on, falling by two cents to $2.89 per gallon nationwide during the week ending Feb. 17, according to the Department of Energy's weekly update. Fuel prices have fallen nearly 20 cents since the beginning of the year and now sit at their lowest point since November 2017. Prices are also down 11.6 cents year-over-year, according to DOE.
During the most recent week, prices fell in all regions with the most significant decrease being seen in the Rocky Mountain region, where prices dropped by 3.7 cents.
The Gulf Coast is home to the nation's cheapest fuel at $2.658 per gallon, followed by the Midwest region at $2.757 per gallon. The most expensive fuel remains in California at $3.774 per gallon, followed by the Central Atlantic region at $3.123 per gallon.
Prices in other regions, according to DOE, are:
New England – $3.07
Lower Atlantic – $2.793
Rocky Mountain – $2.858
West Coast less California – $3.081
ProMiles' numbers during the same week saw fuel prices fall by 3.6 cents to $2.79 per gallon nationwide.
According to ProMiles' Fuel Surcharge Index, the most expensive diesel can be found in California at $3.618 per gallon, and the cheapest can be found in the Gulf Coast region at $2.643 per gallon.