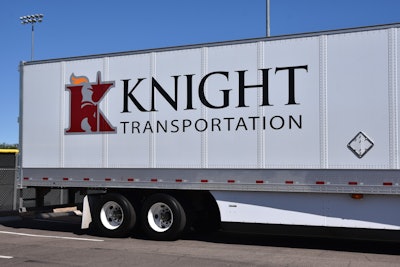 Trucking news and briefs for Thursday, Feb. 20, 2020:
George Washington Bridge leads list of top 100 truck bottlenecks
The intersection of I-95 and State Route 4 near the George Washington Bridge in Fort Lee, New Jersey, is the worst freight bottleneck in the country for the second year in a row, according to data compiled by the American Transportation Research Institute.
ATRI's "2020 Top Truck Bottleneck List" analyzes the level of truck-involved congestion at 300 locations across the U.S. using truck GPS data from more than 1 million trucks.
The firm found that the number of locations experiencing "significant congestion" – with average daily speeds of 45 mph or less – has increased by 92% in the last five years.
The average truck speed at the G.W. Bridge interchange is 29.7 miles per hour, with an average truck speed during rush hour of 22.4 miles per hour. The average rush hour speed at this location increased by 5.1% in 2019, ATRI reports.
In addition to the G.W. Bridge, among the top 10 freight bottlenecks in the country are three intersections in Atlanta, two in Los Angeles, and one each in Nashville, Houston, Chicago and Cincinnati. The top 10 freight bottlenecks are:
Fort Lee, New Jersey: I-95 at State Route 4
Atlanta: I-285 at I-85 (North)
Nashville: I-24/I-40 at I-440 (East)
Houston: I-45 at I-69/US 59
Atlanta: I-75 at I-285 (North)
Chicago: I-290 at I-90/I-94
Atlanta: I-20 at I-285 (West)
Cincinnati: I-71 at I-75
Los Angeles: SR 60 at SR 57
Los Angeles: I-710 at I-105
Overall, Texas leads the way with the most truck bottlenecks with 11, followed by California, Georgia and New York with 7 each.
ATRI says congestion costs the trucking industry $74.5 billion each year with 1.2 billion lost hours of productivity, which is the equivalent of 425,533 trucks sitting idle for an entire year.
The full 2020 Top Truck Bottleneck List can be found here. By clicking on a bottleneck in the list, viewers can see which hours are the most congested for each location.
Knight-Swift to lead pilot of DAT Book Now system
Knight-Swift Transportation and DAT Solutions announced Wednesday the fleet will lead a pilot of DAT Book Now, an automated system that lets carriers on the DAT load boards search for freight and lock in the rate by simply clicking a button.
DAT says the pilot program will run through the end of May, and the DAT Book Now feature will become available to all brokerages in June.
"DAT Book Now is a game-changer for brokers and carriers," said Claude Pumilia, DAT CEO and President. "Today, tendering a load can involve multiple phone calls and interactions. DAT Book Now speeds up the process and leverages the trust and confidence the industry has in the DAT network as a place to do business. One click and everyone will know that the load is good to go."
The news follows Tuesday's announcement that the fleet is integrating Truckstop.com's Book It Now feature into its logistics network.