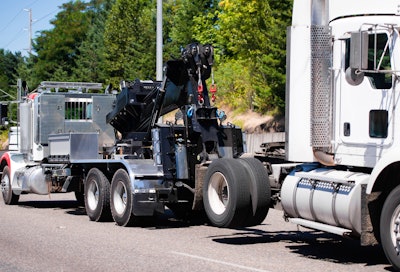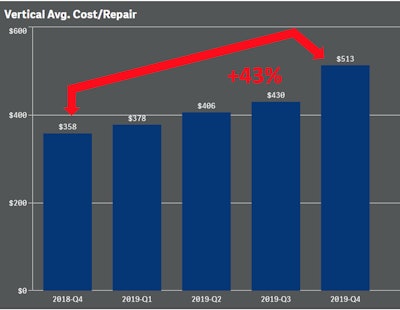 The cost of an unscheduled mechanical repair continues to increase, closing out 2019 with its fourth consecutive quarterly jump and exceeding $400 for the first time since the Technology Maintenance Council (TMC)/FleetNet Vertical Benchmarking Program began in 2017.
At $407, the average cost of mechanical repair was 24% higher than the same quarter 2018. The average cost per tow averaged $1,485 for the past three quarters, and towing events increased 30-plus percent from Q3 to Q4 2019. When factoring in tire expenses and a tow, the average cost of repair hit $450 last quarter – a jump of 26% over the year. Accounting for fleets that submitted data to FleetNet in 2019 that were not accounted f0r the year prior, the average cost of repair skyrocketed to $513 – a surge of 43% over 12 months.
"Cost per repair looks like a permanent headwind our industry is facing and it would be advantageous to fleets to seek to address this," said TMC Executive Director Robert Braswell.
The report, co-authored by TMC and FleetNet America, looks at repair costs in the truckload, less-than-truckload and tank sectors, and showed roadside repairs vary significantly across all three sectors.
In every VMRS system, the average truckload carrier saw significantly more roadside repairs – meaning trucks are traveling fewer miles between breakdowns – than the average LTL or tank fleet. The best-in-class truckload carrier, however, outperformed the LTL and tank vertical averages in some VMRS systems.
Truckload and LTL carriers each saw an increase in the number of miles traveled between breakdowns. Truckload carriers improved by 20% (an improvement of 2,400 miles) from Q3 2019 while LTL carrier got 15% (almost 8,000 more miles) between incidents.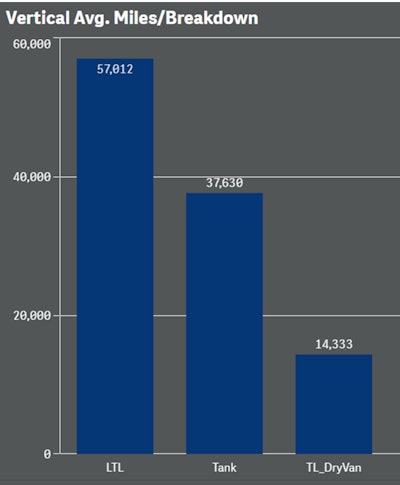 A wide gap in variance between the performance of average fleets and the best-in-class carrier suggests there "is a pretty good indication that our industry has room to reduce maintenance costs by closing the gap between the average and best-in-class fleets," said Jim Buell, executive vice president of sales and marketing for FleetNet America. "People think roadside repairs are like death and taxes; they just happen and you just deal with it."
The best-in-class LTL carrier, for example, got 188% more distance – a difference of 27,000 miles – between breakdowns over the fleet average. The best-in-class carrier in LTL squeezed nearly 8,000 more milesover the LTL average.
Cooling systems, the engine, lights, brakes and tires accounted for 64% of all roadside repairs experienced by participating fleets in the third quarter of 2019. Lighting repair on a per mile basis improved 15% in Q4 while engine repairs improved 13%. The biggest gain over the quarter was tires, with 29% more miles between repairs.
Buell noted there is some seasonality in the Top 5 causes, adding he expects exhaust related repairs to climb into the fifth spot this quarter.
One of the major cost drivers, Buell said, is labor associated with being downed on the road. Technician talent is at a premium and mobile techs often command top dollar as that work environment and the hours are not desirable working conditions. Also pushing price are various fees heaped on by dealers.
"It makes sense. It's basic economics," he said. "It's supply and demand."
Length of repair is also up – from .9 hours to 1.1 hours – due to technological sophistication of modern equipment, Buell said.
"If you blow a tire, you have to take off a tire inflation system, take the tire off, put the tire back on and put the system back together," he said.