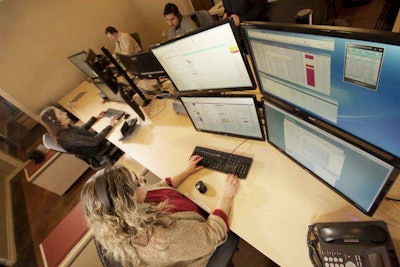 Are your fleet's employees entitled to overtime pay? Federal wage laws define employees as either "exempt" from the overtime requirements or "non-exempt." Nominally, "salaried" or "hourly" do not on their own determine whether an employee is exempt or non-exempt. This is such a common misconception that it's worth repeating: Being "salaried" is not the same as being exempt.
A salaried employee is not automatically exempt from overtime wage requirements. To determine whether an employee is exempt under the law, the courts analyze the duties performed while the employee is on the job and determine whether the employee's duties meet one of the qualified categories of exemptions. Sound complicated? It is.
Let's take dispatchers for example. Dispatchers are critical to the industry to keep operations running smoothly. They frequently work long, irregular hours and are typically proportionately compensated for the demands and requirements of their jobs. Even still, courts are divided over whether the job duties of a dispatcher qualify them as exempt from overtime pay.
This means, for example, that in some cases, a dispatcher could be salaried at $75,000 yet be found to be entitled to overtime compensation for all hours worked over 40 hours per week.
How would a dispatcher be considered exempt? Exempt dispatchers typically fall under the "administrative exemption." To qualify for the administrative exemption, the employer must prove the dispatcher: (1) earns no less than $684 per week; (2) has primary duties that involve the performance of office or non-manual work directly related to the management or general business operations of the employer or the employer's customers; and (3) exercise discretion and independent judgment with respect to matters of significance in performing his primary duties.
Prong one is clear, but understanding prongs two and three can be challenging. So what can your company do to ensure it knows whether its dispatchers (or other employees for that matter) are being paid properly? The easy answer is to create and update job descriptions for accuracy.
For larger companies that have not looked at this issue for a while, or ever, this may be best approached through a complete DOL mock audit to review all job descriptions, make any adjustments or updates, and prepare organizational records in anticipation of a true audit.
Notice how prongs two and three discuss the employee's "duties." If a lawsuit arises and a court is looking at your employees' duties, the singular best evidence that can be offered to show actual job duties is the job description. Additionally, an employer and its employee(s) may testify about their job duties, and the closer job descriptions and actual practice match, the stronger the case. You know your employees' duties, but when it comes to litigation, courts often do not. Strong job descriptions are invaluable during a lawsuit.
Most companies do not give job descriptions a second thought past the hiring phase. Often a written job description differs from reality (i.e. job duties reaching outside of the department or heightened responsibility that was not previously anticipated). It is vital that companies keep truthful job descriptions to support their classifications of "exempt" or "non-exempt" employees. The descriptions should be reviewed regularly for accuracy, and then compared to company pay practices to ensure compliance with applicable wage laws.
If you are unsure whether your job descriptions and pay practices are in compliance, you should seek legal counsel for review.
This is the third piece in a three-part series on how fleets can protect themselves against wage and hour law claims brought by private or government-backed litigation. See Parts 1 and 2 below.