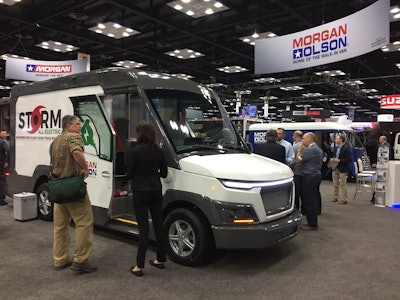 If there was ever a sign that powertrain electrification is forging ahead, it was at The Work Truck Show in Indianapolis last week.
Four manufacturers showcased electric vans at the Indianapolis Convention Center. Sparking additional interest, XL Fleet debuted two heavy-duty hybrid Chevy Silverados and Crane Carrier Company told Commercial Carrier Journal that they were on track to offering an electric truck.
However it was electric vans presented by Ford, Morgan Olson, Utilimaster and Workhorse that served as a big reminder of the growing interest in vans fueled in large part by swelling e-commerce.
Ford generated arguably the biggest buzz, announcing an all-electric Transit for model year 2022.
The auto giant's $11.5 billion investment in vehicle electrification appears to be making it well-positioned to offer its first electric van in North America. Not only does it have 3,000-plus dealers and over 12,500 chargers across the country, the global auto giant has also been busy the past few years soaking up data from its all-electric Transits in Europe, which DHL has been using to deliver packages in challenging temperatures and on varied terrain.
"This is a very good, exciting thing for many of our commercial customers," Ted Cannis, Ford's director of global electrification, announced at a packed press conference inside the Indiana Convention Center. "We have a lot of excited people working on it. The prototypes are fantastic."
Cannis made it a point to stress Ford's vast network and how it would provide leverage over the competition in a fast-growing EV market.
"Other guys may come up with an electric vehicle and it might be good, but they don't have the service and sales support that you need or the parts to keep uptime all the time," Cannis said. "Because if you're a commercial customer and this is your life, you cannot be down. You can't just risk it. This is the backbone of the business and one of the reasons we will clobber the competition."
Morgan Olson eager for Class 2 e-commerce
Morgan Olson has a few plans of its own. The longtime P&D manufacturers also attracted a large crowd at the show as they announced two Class 2 step vans, one of which is all-electric.
The electric Storm has a range of roughly 100 miles. It's powered by a BMWi EV powertrain which has already been busy at work in over 65,000 vehicles in Europe.
Electric Storm models will vary from 400 to 700 cubic feet and offer up to 4,000 pounds of payload capacity.
"The Class 2 will probably never be a laundry vehicle," Tremmel said. "We're probably going to cube-out more than we would weight-out. The weight restrictions aren't really as important as you would find in a laundry truck. This is designed specifically to help the e-commerce boom."
Morgan Olson's other big reveal was its gasoline Storm van built on Ford's F-150 chassis and powered by the OEM's 3.5-liter V6. However, other chassis offerings are certainly possible. The Michigan-based builders have been in talks with Ram and GM. The van will be available in two- and four-wheel drive.
Safety systems in both Storm vans include a new ASA Electronics 360-degree camera with split-view display, lane-keeping system, and pre-collision assist with automatic emergency braking.
Body design includes new aluminum honeycomb composite panels which deliver lower NVH and better insulation value over conventional panels.
With an elevated seat height and other more P&D-friendly attributes, Morgan Olson believes its Class 2 step vans are a better fit in the growing e-commerce segment than current offerings.
"It's no secret many cargo vans and cutaways come with lighter-weight automotive doors, handles, and other moving parts that can't withstand the cycling demands required for long-life use and durability," Tremmel said. "All the components and moving parts in the Storm body are proven long-life work truck solutions, just like the ones the world's largest parcel delivery companies have relied on Morgan Olson to deliver year after year."
The versatility of Morgan's new van body may lead to another arrangement with Ford.
"When we go to production on this it could be on the Transit, it just depends on the voice of the customer," Tremmel said.
The all-electric 2022 Transit will be available in various configurations including cargo van, cutaway, chassis cab, three roof heights and three body lengths.
Both Class 2 Morgan Olson Storm vans are intended to get more drivers on the road within the growing e-commerce market.
"The Storm provides a purpose-built, class 2 work truck solution that anyone can drive," said Rich Tremmel, Morgan Olson vice president of sales and marketing. "We build step vans for the world's largest e-commerce, parcel package delivery companies every day, and fleet managers are seeing a shortage of DOT licensed drivers. Morgan Olson has responded with this new step van under the 10,000 lb. GVWR benchmark. The design creates new driver opportunities, embraces new advanced driver safety technologies, and provides an automotive-like driving experience."
Production on the Storm vans is expected to begin in 2021 at their new facility in Ringgold, Virginia.
"These are actually going to compete with every cab chassis cutaway on the market right now. This is totally new. This is totally innovative and it's at a price-point comparable to a cab chassis," Tremmel said.
Utilimaster displays new gas and electric walk-in vans
Utilimaster revealed its new Class 3 Velocity M3 walk-in cargo van alongside its new electric Reach walk-in van.
The Utilimaster Velocity M3, built on a Mercedes-Benz Sprinter cab and chassis, blends the fuel efficiency, driver ergonomics and safety provisions of a cargo van cab and chassis with the expansive cargo space of a traditional walk-in van.
The Velocity M3 builds upon advancements from the Utilimaster Reach, with a lighter body design, improved payload, better fuel efficiency and maximized cargo space. An automatic access system opens, closes, and locks interior and exterior doors to improve stop-by-stop efficiency gains.
The Velocity M3's driver comfort and safety innovations include OEM comfort seating, collision mitigation, blind spot detection and a 360-degree camera system with a high definition 9-inch display, and rear radar sensors. Additional security measures include three-door keyless access systems with wristband RFID activation, an automatic side door and bulkhead door closure feature, and an interior camera system.
The recently fully electrified Reach EV complete vehicle is a follow-up to the presentation of the bare chassis at last year's 2019 Work Truck Show.
Reach EV draws its power from a Cummins powertrain and battery that can charge in under six hours. Range is up to 130 miles and payload is rated at over 2,000 lbs. Production is expected to start in the second quarter of 2021.
Workhorse debuts two new electric vans
Workhorse unveiled two new electric step vans at The Work Truck Show.
The Ohio-based company's new C650 and C1000 offer 650 and 1000 cubic feet of storage capacity respectively and top out at 12,500 lbs. when fully loaded. A lightweight, composite, monocoque construction method significantly cuts vehicle curb weight when compared to conventional models while still providing the same cargo volume capacity.
Workhorse C Series vehicles are powered by a modular battery pack system, which provides between 35 kilowatt hours (kWh) when equipped with two battery packs and 70 kWh in its standard four pack configuration.
Depending on the size of battery pack installation, range is expected to be between 100 and 150 miles on a single charge, while achieving approximately 53 miles per gallon gasoline equivalent (MPGe). Workhorse also currently has the only patent approved for a delivery-truck-mounted drone system, which has been shown to further increase last mile efficiency.
"A combination of lightweight design, modular battery pack, and a 4-wheel independent suspension system with rear air shocks makes our new C650 unlike any electric vehicle on the market," said Duane Hughes, Workhorse CEO.
XL Hybrid debuts Chevy Silverado HD
XL debuted two new hybrid electric Chevrolet Silverado HD pickup options at The Work Truck Show which offer up to 25 percent improvement in fuel economy while lowering emissions up to 20 percent.
"The launch of these two new Silverado upfit technology platforms represents an exciting expansion of our work with GM Fleet as well as our growing line of hybrid electric pickup trucks, which have become some of our most popular vehicles in recent years," said Dimitri Kazarinoff, CEO of XL Fleet. "Hybrid fleet trucks are still the most viable green transportation option for most fleets, given the significant impact they can have on fuel economy and sustainability goals without disrupting operations or performance."
The Chevy Silverado 2500 and 3500 equipped with GM's new 401-hp 6.6-liter V8 get up to 220 lb.-ft. extra torque, a nearly 50 percent increase, from XL's drivetrain-based system.
"The all-new Silverado HD is a true work truck—our strongest, most capable HD ever," said Ed Peper, U.S. vice president of GM Fleet. "When you combine that with XL Fleet's hybrid upfit technology, together we're able to provide our shared customers an innovative truck solution they've been asking for."
The XLH hybrid electric platform for the Silverado features a high-efficiency lithium ion battery, inverter and electric traction motor, which propels the vehicle forward during acceleration and captures energy through regenerative braking during deceleration. The system extends brake service life.
The battery is located under the body at the rear of the vehicle.
"On our plug-in applications, the battery, which is a lot larger, goes in the bed of the pickup truck," Kazarinoff said. "We are looking at with the new plug-in battery that we're bringing the ability to package that underbody in certain applications as well."
As with the rest of the XLH hybrid electric upfit applications, the system requires no external power or charging infrastructure to operate, and all OEM factory warranties remain intact. The XLH system will include XL's standard 3-year, 75,000-mile warranty, with extended warranty options available.
Crane Carrier going electric
Customer demand prompted Crane Carrier Company to quickly build and reveal its newest Signature Chassis, the Low Narrow Tilt which following diesel and CNG offerings will be available in battery-electric.
With its 82-inch cab width, the LNT heavy‐duty work truck chassis is 12 inches narrower than the company's long‐time bestseller, the Low Entry Tilt 2. Despite its slimmed down footprint, the LNT supports a three‐man work crew and maintains Crane Carrier's low entry 18-inch step-in height on both sides of the cab.
The LNT's initial GVW ranges from 26K to 35K single axle, with tandem axle and single axle city tractor models to follow. Powered by the Cummins B6.7 engine in both diesel and CNG, the chassis features left hand, right hand or dual steering configurations, a flat floor, pass through cab design, and EMP electric fans.
Crane Carrier senior vice president sales and marketing Mark Hampshire said the slim LNT was specifically engineered for class 7 and 8 vocational work trucks required to navigate narrow spaces, like tight alleyways, side streets and winding corridors. Conventional trucks had become more of a liability in these confined spaces.
"Refuse people started coming to us and saying, 'We can't get these trucks today in these alleys. We're just tearing things up. We're tearing up people's fences and everything else,'" Hampshire said.
Eager to meet demand, Crane Carrier set out quickly to produce the LNT, its fastest build to date. Full production is set to begin this fall.
"We designed it, engineered it, built it and it's here. In six months. It's usually 18 months minimum," Hampshire said. "And actually, this is the platform we're developing right now for fully electric."
When it came to choosing a chassis for an all-electric powertrain, the slim LNT made for a better business case.
"We said, 'Why do the big truck? All of them are doing the big truck,'" Hampshire explained. "Let's do this because the beverage business, the sweeper business—all of those companies that use this truck in multi-stop and final mile, they all want electric so we're going to give them a robust, electric truck."
Hampshire would not reveal range or payload capacity but said that his company's been pleased with the performance of a working prototype. The truck is expected to enter production in 2023.
When it comes to using electric, Hampshire said it boils down to the application. "It's going to come to a point where it (electric) doesn't work for everybody. But where I see the other piece is hydrogen," he said.
Hampshire would not confirm if Crane Carrier is developing a fuel cell truck. Up until January of 2019, the Ohio-based company had been part of Hines Specialty Vehicle Group, owner of Bennet Pump, a dominant player in the nascent and costly hydrogen fueling market. Hines sold Crane Carrier and its associated brands to Turnspire Capital Partners.