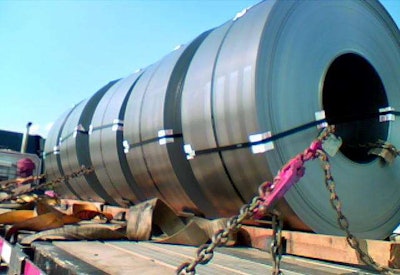 Cargo securement issues accounted for 12.2% of out of service (OOS) violations during last year's Commercial Vehicle Safety Alliance International Roadcheck, the No. 4 violation on the list preceded by brake adjustment (17.1%), tires and wheels (19.3%) and braking systems (28%).
The top five violations for the annual safety blitz – the 2020 installment of which starts next week – are failure to prevent shifting/loss of load; failure to secure truck equipment; damaged tie downs; insufficient number of tie downs; and loose tie downs.
No doubt, mastering cargo securement use can lead to a downturn in violations and a safer journey.
"When you step back and just try to look at the basics, the first thing you're going to do is make sure the load is safe, stable and immobilized," Ralph Abato, president and managing director of Doleco USA.
"If you've got pipes rolling around and you're going to put some tie-downs on it, you're already starting out on the wrong foot. So make sure the load is safe, stable and immobilized," Abato added.
Some loads call for certain securement devices.
"The next thing is you have to make sure you're using the proper load securement and that might mean on a particular load you might be needing to use chain and load-binders," Abato said. "And on other loads, textile, web, winch straps or ratchet straps could be much more applicable. And that would be if you've got some sharp steel product, maybe that calls for steel chain—something you wouldn't want to put webbing on because it would be cut."
Doleco's website lists several load securement guides including the Federal Motor Carrier Safety Administration's Cargo Securement Rules. The 44-page .pdf includes images of secured cargo, securement devices, working load limits of chain, webbing and wire rope and plenty of details and formulas pertaining to securement rules.
A deeper dive can be found in the 387-page instructor's manual for the North American Cargo Securement Standard which includes a slide presentation. Viewers are reminded of the hazards of not properly securing a load. One image shows a bulldozer that was improperly secured on a trailer with a single 3/8-inch chain. During a hard stop, the dozer launched into the cab and killed the driver. In this case, the choice to not follow a load formula proved deadly. For others, it may result in a costly violation during the Sept. 9-11 Roadcheck blitz.
"The next basic thing is the general requirement for load securement is a formula. And that is you need to double-check the number of tie-downs that you're using against the weight of the load," Abato said. "Basically it's a formula so you have to be at a minimum with the working load of all the tie-downs. Whether they be chains or web straps they need to be one-half aggregate of the weight of the load of the cargo. It's pretty basic. But if the drivers don't know those laws, then they're in for real problems."
The cargo securement specialists at Kinedyne have included a blog on their website which features articles packed with plenty of tips. One of their articles takes a closer look at the International Roadcheck.
"Whether you're on the road or off it, safety should always be the number one thing in mind when dealing with cargo control," states Kinedyne's article Be Prepared with Cargo Securement Safety. "Anything that isn't properly secured is a hazard, regardless of its size. Always be mindful of your cargo's working load limit. Consistently replace or repair your tie down equipment."
Kinedyne reminds readers of seemingly benign cargo that's not always addressed.
"Something as small and unnoticeable as pebbles or clumps of dirt on your deck can count as loose cargo. Even loose hay spilling from hay bales counts. Make sure to keep your flatbed clean by giving it a good sweep in between hauls. This also helps prevent the load from shifting since it'll lay on a more even surface. If you're traveling with very loose materials like dirt and hay, use a tarp to keep it all covered and enclosed."
Abato noted that keeping up with new cargo equipment can lead to safer loads and improved working conditions. Doleco's new DoNova PowerLash Textile Lashing Chain and Tiedown System uses a textile chain that weighs 85 percent less than steel and has a 22,000-lb. working load limit. PowerLash is steadily attracting fleets that want to get away from heavy chains.
"It creates workers comp claims, damage to the cargo," Abato said. "And so instead of hauling around this heavy, steel chain, you're able to wrap a bundle of this textile chain, throw it over your shoulder and climb up on the load and secure it easily, quickly, safely—what's that worth? We're really excited about it."