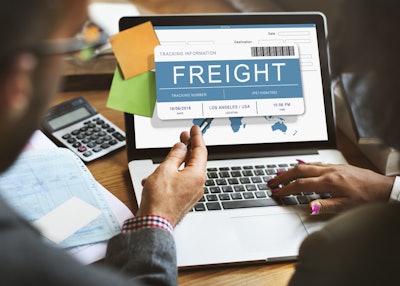 During the ongoing COVID-19 pandemic, transportation and logistics providers are seeing increased demands for real-time shipment visibility, especially for certain loads, and for electronic payments to streamline cash flow while also safeguarding drivers and office personnel from human contact.
On these two fronts, several technology suppliers have announced new products and services.
Trucker Tools is giving its freight broker customers unlimited use of its GPS-based visibility platform that is integrated with its free mobile driver app. The platform gives real-time visibility of truckload shipments in transit as well as when and where trucks are available for their next load.
The company has waived overage fees for shipment tracking for the next 60 days, after seeing a nearly 25% increase in loads tracked on the platform in March.
"Shippers have heightened interest in the safe and secure transit of their goods, and meeting critical on-time delivery deadlines," said Prasad Gollapalli, founder and chief executive of Trucker Tools.
The free Trucker Tools Mobile Driver App now has a COVID-19 section that gives information, resources and support services. Nearly 900,000 independent owner-operators and 130,000 small-fleet operators utilize the driver app.

Click here to view our full coverage of the coronavirus' impact on the trucking industry from the leading industry publications of Commercial Carrier Journal, Overdrive, Truckers News and Trucks, Parts, Service.
The COVID-19 section of the app has information and links from brokers, shippers and other businesses that are offering specific resources and aid to truck drivers, such as the following:
BNSF Logistics suspended Quick Pay processing fees for qualified carriers through April 30.
Kingsgate Logistics has waived payment processing and EFS check fees for carriers. The company also expanded its use of Book it Now automated booking, making more shipments available through the tool to help carriers find and secure loads and reloads faster.
"If we can free up time – and capital – for carriers, it helps them stay solvent and keeps the supply chain moving," said Tom Curee, Kingsgate's senior vice president, strategy and innovation.
Choptank Transport is providing hot meals for truckers making pickups and deliveries at Choptank facilities, designated sanitized rest areas and bathrooms, and gift bags with hand sanitizer and wipes, water, soft drinks, snacks, a safety vest and other personal care and protective gear.
"Truckers have an already difficult job that's made even more stressful in this environment," said Geoff Turner, president of Choptank. "We'll learn from this in ways that will make us better partners and appreciate more than ever the sacrifices professional truckers make to support our communities and keep our supply chains flowing."
Gollapalli added that any broker, shipper, 3PL, warehouse operator or organization providing a special service or benefit for truckers is welcome to share their efforts in the COVID-19 driver's resource.
Faster, lower-cost factoring
Comdata Inc., a Fleetcor company and provider of electronic payment systems, has added a financing program for fleet owners to access same-day payments on loads they deliver.
The new program, Comdata QuickPay powered by Crestmark, gives access to shipper payments directly on the Comdata fuel card or bank account within 24 hours of delivery. Crestmark is a division of Metabank.
"We developed this solution to provide faster funding options to give fleets a stronger financial footing and much easier access to those payments," said Justin King, senior vice president of product and innovation, North America, Comdata.
Fleet owners can factor invoices to Crestmark upon delivery at one of the lowest factoring rate fees in the industry, the company says, to increase cash flow and eliminate collections.
Apex Capital Corp. has a new digital payment and financial system, called blynk, for clients to get paid in minutes after freight invoices are processed and purchased by Apex.
The initial launch of blynk lets Apex clients receive payment within minutes through bank debit cards, Zelle or direct DDA transfer. Apex says that blynk has no incoming wire fees at most banks and funds are available for immediate withdrawal.
RoadSync has a touchless payment app that streamlines payments for fleets and drivers to lumpers, repair and maintenance shops. Vendors can digitally invoice and accept payments without human contact.
The tools are customized for the logistics industry with supplier and carrier lists to streamline transactions and give insight into operations at loading docks or vendors with late fees as well as fees for violating check-in and check-out times.
Recently, RoadSync introduced Express Deposit that allows customers to cash out minutes after a transaction is complete.