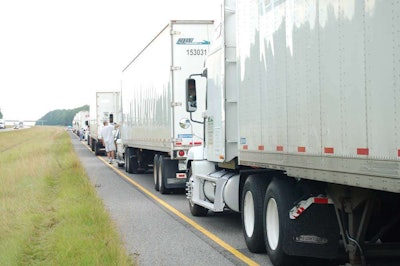 According to transportation analytics firm INRIX, Inc., Americans lose 99 hours a year to traffic congestion and lost $88 billion in productivity last year – an average of $1,377 per person per-year. From 2017 to 2019 the average time lost by drivers in the U.S. has increased by two hours as economic and urban growth continue nationally.
Congestion hits freight carriers harder than anyone. American Transportation Research Institute (ATRI) estimates traffic delays cost the trucking industry $74.5 billion annually with 1.2 billion hours of productivity lost – the equivalent of 425,553 truck drivers sitting idle per year.
Mass quarantines and mandatory remote work policies designed to limit the spread of the COVID-19 coronavirus, while inconvenient for legions of now-homebound motorists, have taken vehicles off the highway and skyrocketed the productivity of many truckers in areas historically plagued with the worst traffic congestion.
"Huge metro areas still have traffic but nothing like the normal," said Jamie Hagen, owner/driver for Aberdeen, South Dakota-based bulk hauler Hellbent Xpress. "Literally cruising right through without slowing down."

Click here to view our full coverage of the coronavirus' impact on the trucking industry from the leading industry publications of Commercial Carrier Journal, Overdrive, Truckers News and Trucks, Parts, Service.
In the span of one week – from Friday, March 13 to Friday, March 20– INRIX data showed traffic went from "reduced congestion" to "free-flow" in America's 25 largest metropolitan areas. Chicago and Los Angeles saw afternoon travel speed increases of 35% and 38% above average to 74% and 75% above average in one week as the scale of containment expanded.
Driver Jack DeRubeis said traffic through Dallas, Texas, was "flowing smoothly compared to stop and go traffic." Interstate 45 at Interstate 30 in Dallas is No. 18 on ATRI's bottleneck list. U.S. 75 at Interstate 635 is No. 43.
ATRI pulled real-time GPS data from more than a million trucks to analyze freight flows, "and so far in March," said ATRI President and COO Rebecca Brewster, "what we are seeing is an unprecedented level of truck movement. Not only are trucks continuing to move, but they are doing so at speeds well in excess of normal traffic patterns."
According to ATRI's data, at the intersection of I-85 and I-285 in Atlanta – known locally as Spaghetti Junction – afternoon rush hour truck speeds are typically under 15 mph due to congestion. INRIX data pegs Atlanta as the 10th most congested urban area in the U.S. with 82 hours lost sitting in traffic last year.
Last week, ATRI showed truck speeds averaged 53 mph through Spaghetti Junction, the second worst trucking bottleneck in the country as ranked by ATRI.
"Spaghetti Junction is typical of what we've seen across the country, especially in areas hit hard by the virus and subject to quarantines and lockdowns," Brewster said. "As other traffic dissipates, trucks continue to move, delivering much-needed relief supplies to markets, hospitals, gas stations and other essential businesses."
The states hardest hit by COVID-19 – New York, California and Illinois – also saw some of the largest gains in overall truck speed.
Along Interstate 495 in Queens, New York – the No. 4 most congested urban area in the U.S. per INRIX with 140 hours lost annually – afternoon rush hour typically sees average truck speeds of 16 mph. Speeds this month have more than doubled to 38 mph – still below the posted speed limit but an improvement. New York City was also one of the country's most congested metros according to INRIX, with the "last mile" taking seven minutes.
Los Angeles holds the No. 6 spot on INRIX with 103 hours lost to congestion per year. At the intersection of Interstate 710 and Interstate 105, truck speeds during morning rush hours, between the hours of 6 and 8 a.m., are normally under 25 mph. Truck speeds now average 53 mph. Los Angeles holds the distinction of home to INRIX's top two worst corridors in the U.S., where drivers on the US-101 and Interstate 5 waste 80 and 76 hours per year at peak hours in congestion, respectively.
At the Byrne Interchange in Chicago, where Interstate 290 intersects with Interstates 90/94, morning truck speeds are now averaging 43 mph, according to ATRI, more than twice the typical morning rush hour speed of 20 mph. Chicago was INRIX No. 2 worst urban area for congestion with 145 hours lost per year. According to estimates from the Chicago Metropolitan Agency for Planning (CMAP), 36% of freight truck traffic in the Chicago region passes through this area.
ATRI's analysis found that the overall number of locations experiencing significant congestion – with average daily speeds of 45 mph or less – has increased 92% in five years, outpacing the 10% growth in traffic congestion during that same time period.
Brewster said the recent bump in average speed could best be explained by two COVID-19 related factors. First, and most obvious, is that the reduction in commuter traffic is allowing trucks to operate at higher speeds. Second, is the continuous 24/7 truck operations that generate higher average truck speeds across nearly all hours of the day.