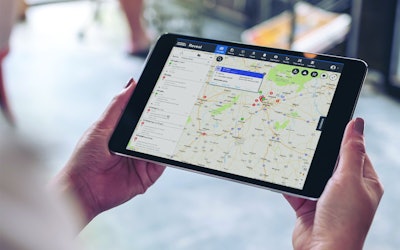 Verizon Connect announced new updates to Navigation mobile app to provide information on open truck stops and hours of operation to help the long-haul truck drivers who encounter rest stop closures.
The mobile app works with Verizon Connect's fleet management technology to help long-haul truck drivers who encounter rest stop closures. Updates are continually being added at the state level, it said, from departments of transportation and truck stop chains (e.g., Pilot, TA) every night in the system to help drivers find open stations and stops where they can rest and fill up their gas tanks.
Verizon Connect also has software for field service management that allow fleet managers to optimize job schedules during periods of low-staffing and sick leave, or quickly adjust schedules to comply with rapidly changing regulations and health recommendations.
Driver and technician mobile apps allow field workers to record and share information and notes with the office, avoiding the physical exchange of paper and meeting social distance recommendations between customers, drivers and technicians, and office workers.
Fleet management technology also has software integrations with supply chain companies to provide real-time information about shipment estimates and progress ensures critical goods can reach areas of need on time, the company said.
Live maps in Verizon Connect's fleet management technology can provide managers with the location of staff, reducing the need to "check in" at the office. Additionally, the technology can track locations during the day, and replay where drivers have been and who they have encountered in case a staff becomes positive for COVID-19.
Now that the Federal Motor Carrier Safety Administration issued a national emergency declaration to provide hours-of-service (HOS) relief to commercial drivers, managers can track driver location and hours so that they are taking the minimum of 10 hours after a delivery is complete, it added.